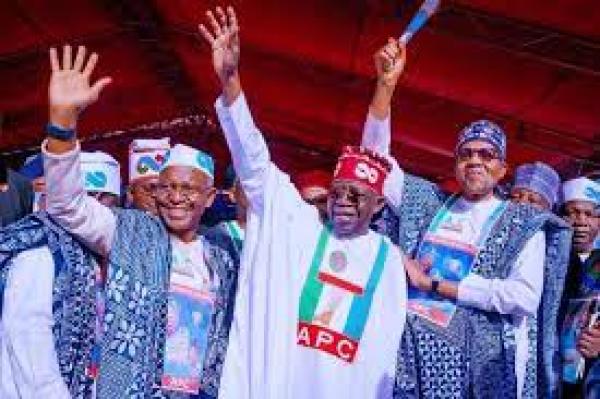 Why I openly voted for Tinubu – Buhari
From: Agency Report
Sat, 25 Feb 2023 || Nigeria,
President Muhammadu Buhari says he openly displayed his ballot paper, with thumb print for the All Progressives Congress' (APC) Presidential Candidate, Sen. Bola Tinubu, as rare show of loyalty and support.
According to Buhari, after campaigning for the political leader in many parts of the country, he has reaffirmed on his preferred successor.
The president assured that he had always supported the candidature of Tinubu, and the show of his ballot paper to the media and the public had further shown his commitment to the party and the national leader.
Buhari, who cast his vote alongside his wife, Mrs Aisha Buhari, and other family members, at Ward A, Sarkin Yara Polling Unit 003, said it was a pity that only one female emerged as gubernatorial candidate of the APC, Aisha Binani, urging support for the candidate.
"I am very impressed because I have seen how the people turned up. I am very impressed and very happy.
"Well, the candidate I voted for I have already mentioned him in many states in Nasarawa, Katsina and Sokoto.
"All over the places I mentioned my favourite candidate, Asiwaju Tinubu, and I believe my constituency will elect him 100 per cent,'' he said.
The president advised Nigerians to ensure that their rights to vote were always respected.
"Nigerians should make sure that they are respected; that means that the candidate they want to vote for they are allowed to vote for him.
"It is a pity there is only one female candidate from Adamawa State, so the electorate should kindly follow our party,'' he added.
Asked how he felt that it was the first time since 2003 that he was not on the ballot paper, the president said:"It is very exciting. I look at those who are competing and some of them are so agitated and they didn't know that I tried three times and ended up in the Supreme Court three times.
"The fourth time I said 'God dey' and God sent technology, Permanent Voters Card, so no fraudulent person can claim anything,'' he stated.
According to the president, APC will win "from Daura to Lagos".
The president's family members and staff also voted at the polling unit.
Back to News