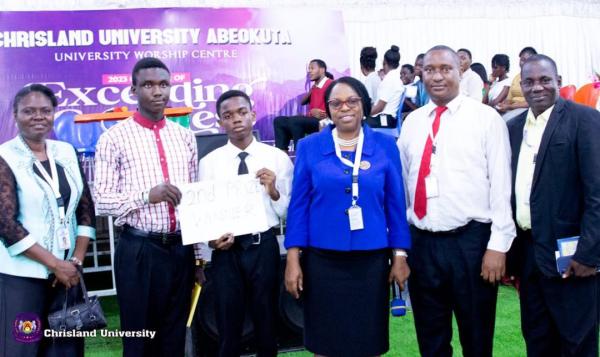 Freshmen urged to Make Better Choices towards their Academics, Well-Being
From: CEOAFRICA
Mon, 13 Feb 2023 || Nigeria,
Chrisland University's 2022/2023 new intakes have been urged to make better choices towards their academics and well-being in order to have an outstanding lifestyle on campus.
The charge was made at the University Auditorium during the day one of a two-day Orientation programme organized for freshmen to introduce them to both the academic and social aspects of the institution as they transition from high school.
In his opening remark, the Registrar, Mr. Samuel Omotoso admonished the students to take seriously the information being disseminated at the orientation, noting that the orientation programme is a formal activity to explain the function and running of the University system.
He urged the new intakes to start envisioning who they want to become in the next four to six years, noting that is is imperative to discover the peculiarities of their course study.
In his word, "Begin to take good decisions today and shun things that would destabilize you. You have the mandate to graduate with good results, and this is why you have to discover the peculiarities of the Programme you are studying. Begin to see the end of the journey. This is one of the things that will launch you into excellence. Be organized and schedule your day to day activities. Discover your own learning styles and don't try to be like others. Know yourself, your intelligence level, your capabilities and capacities. Also make sure you abide by rules and regulations."
While speaking on the relevance of medical fitness to academic performance, the University Medical Officer, Dr. Bukunmi Ojelowo noted that healthy behaviors such as practicing healthy lifestyles, eating balanced diet, exercising, getting quality sleep are associated with academic achievement.
In his words "Make sure you sleep at least 6-8hrs per day to be able to work effectively. Eat before going to classes in the morning to avoid complications. Eat balanced diet and limit the intake of junks and carbonated drinks because carbonated drinks and junks are a risk factor of Obesity, Diabetes and cardiovascular diseases".
He further explained that drinking enough water every day is essential for the health, adding that carbonated drinks are a risk factor of cardiovascular diseases.
In similar vein, The Head of Department , Public Health, Prof. Dekan Adelekan urged the new students to keep personal hygiene on daily basis to prevent illness and infections from bacteria, germs or dirt.
Speaking on etiquettes, the Head of Department, English, Dr. Olubimpe Adekunle noted that etiquettes are set rules or customs that control accepted behavior in a particular social groups and social situations.
She highlighted classroom etiquettes, library etiquettes, social etiquettes, hostel etiquettes, eating etiquettes, telephone etiquettes as some of the certain qualities an undergraduate is expected to exhibit.
The Dean of Student Affairs, Dr. Emmanuel Olumuji also issued a stern warning to the freshmen regarding attitudes, behaviors and gatherings that would put them in trouble, adding that they must follow the basic rules which are unavoidable such as wearing of identity cards, etc.
Other facilitators at the two-day orientation include the Director, Centre for Entrepreneurship and Leadership Development, Dr. Stephen Ibidunni, the Director of Chrisland Counseling and Psychological Services, Dr. Modupe Akin-Deko, a lecturer from the Department of Mass Communication, Dr. Michael Ogbemudia and ICT team.
The two-day orientation programme is scheduled to wrap up on Tuesday, 14th February, 2023 while the Matriculation Programme for Freshmen has been scheduled to hold on 16th Thursday, 2023 at the University Auditorium by 11am.
Back to News