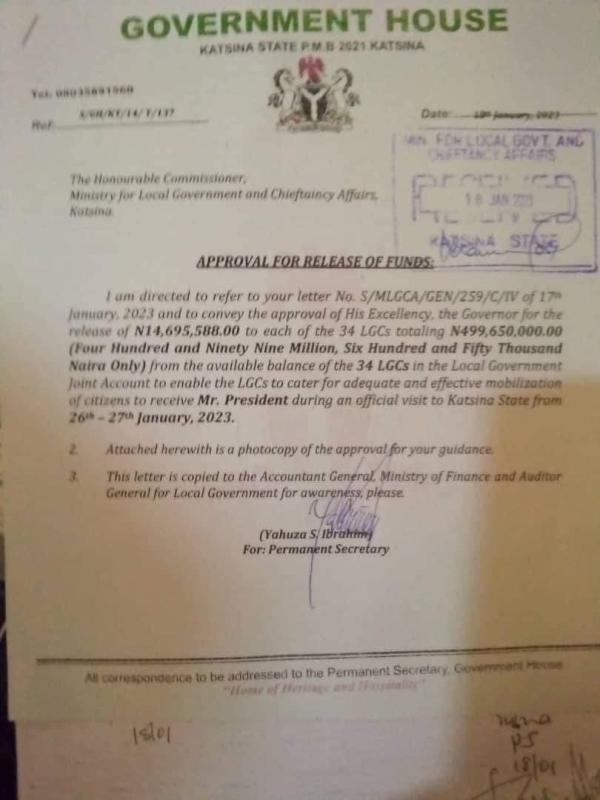 CSOs kick as Katsina State Govt approves N499m from LG joint account "for mobilization of citizens to welcome Buhari"
From: Agency Report
Wed, 25 Jan 2023 || Nigeria,
Katsina State Governor, Aminu Bello Masari has came under heavy criticism for approving N499.6 million for the mobilisation of citizens to welcome President Muhammadu Buhari on his visit to the state.
Buhari is expected in the state on a two-day official visit from January 26 to 27, 2023 to inaugurate some projects executed by the state government.
A leaked letter dated January 18, 2023 conveying the approval for the release of the funds, which has gone viral, showed that the governor made the approval for the release of the money.
According to the letter signed by Yahuza S. Ibrahim on behalf of the permanent secretary, Government House, and addressed to the Commissioner for Local Government and Chieftaincy Affairs, Hon. Ya'u Umar Gwajo-Gwajo, the money is expected to be sourced from the local government joint account
"I am directed to refer to your letter No. S/MLGCA/GEN/259/C/IV of 17th January, 2023 and to convey the approval of His Excellency, the governor for the release of N14,695,588.00 to each of the 34 LGCs totalling N499,650,000.00 (Four Hundred and Ninety Nine Million, Six Hundred and Fifty Thousand Naira Only)" the letter read.
"From the available balance of the 34 LGCs in the Local Government Joint Account to enable the LGCs to cater for adequate and effective mobilization of citizens to receive Mr. President during an official visit to Katsina State from 26th -27th January, 2023.
"Attached herewith is a photocopy of the approval for your guidance. This letter is copied to the Accountant General, Ministry of Finance and Auditor General for Local Government for awareness, please."
Reacting to the letter, the state Coalition of Civil Society Organisations (CSOs) has condemned the decision taken by the government, describing it as the highest level of corruption and squandermania.
The Chairman of the Coalition, comrade Abdulrahaman Abdullahi, while reacting to the development in a message sent to THISDAY, said it was one of the ways through which local governments' funds were been siphoned in the state by the government.
He said in a state like Katsina, where children received education on bare floor, access to healthcare is poor due to shortage of human resources and medical equipment and potable water is inaccessible to many communities, for government to withdraw such "stupendous amount" for Buhari's visit is totally unacceptable.
"This money, if properly utilised, is enough to pay one year allowances for over 4,000 casual workers in the state, provide 500 communities with potable water or fabricate 50,000 desks for our students to learn in a more conducive atmosphere," he said.
"After all, this clearly tells us that what the government has been saying about local government areas' inability to pay their workers' salaries due to insufficient funds is not true."
However, the state Commissioner for Local Government and Chieftaincy Affairs, Hon. Ya'u Umar Gwajo-gwajo, told journalists at a press conference that there was no such approval from the state government.
"I call on people to stop acting based on speculations, let there be certainty on whatever people will want to react to. If the said letter is true and it gets to my table, I will see what it contains and if such approval is given, I will see what it is intended for and who should act on it. But for the time being, there is nothing like that and we have our local government funds intact in the account," he said.
Also reacting, the Director General (New Media) to governor Masari, Al'Amin Isa, said the said letter of approval was fake and challenged those who made the allegation to prove its authenticity.
Back to News