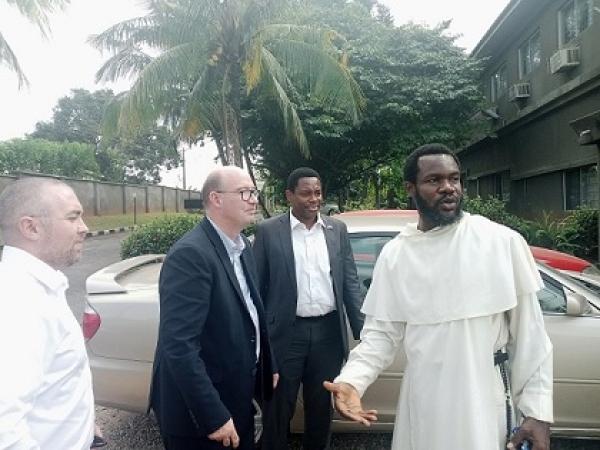 Pictorial: British High Commissioner visits Dominican University
By: News Editor
Sat, 19 Nov 2022 || Nigeria, Ibadan, Oyo State
The British Deputy High Commisioner to Nigeria, Mr Ben LIewellyn-Jones, on Friday visited Dominican University (DU) as part of the effort to foster partnership between the British government and the Nigerian government.
Liewellyn-Jones paid a visit to the citadel of learning to see the Dominican Chapel which is said to have been in existence for 50 years.

The Dominican Chapel which was designed by Architect Demas Nwoko to have one source of light that would come from the sky, first bathes the central crucifix before illuminating the rest of the chapel.
Upon his arrival, Liewellyn-Jones proceeded to the office of the Acting Vice Chancellor Professor Hyginus Ekwuazi, who welcomed him and his envoy.

VC briefed the august visitors on the uniqueness of the citadel of learning which he urged them to tour round university to have a feel of the serenity and the conducive environment for learning.
The Deputy High Commissioner said his visit to the chapel was amazing, noting that the designs, as part of the elements depict African history, bring people closer to God.