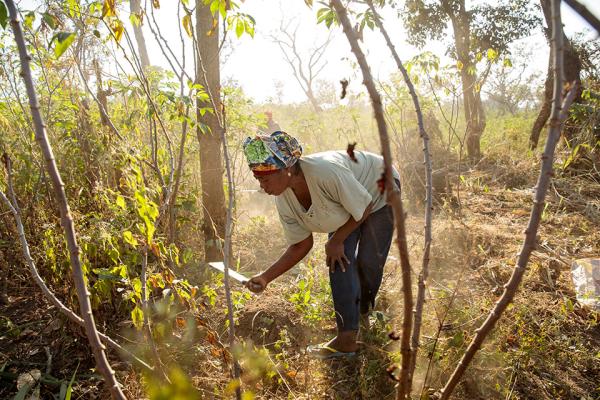 Rural Women And National Development: A Call For Support
By: Abara Blessing Oluchi
Sat, 15 Oct 2022 || Nigeria,
"Mama how much you dey sell the ugu?" "My daughter, na 50-50 naira." Mama E too cost na, I wan buy four. Sell am for me 100 naira." "Fine girl, gain no dey am like that. When we carry things for our farm commot, okada and motor people dey too charge us, na why we no dey get anything again. Oya take three, make I just sell am go back house." "Noooo, Mama, ugu dey common na. I even get some for my garden. Na because say I wan buy from you…" "Oya take my daughter" (whimpering pathetically).
Few minutes later, the gorgeously dressed and dazzling Dora (pseudonym), who just exploited the old, fidgety, emaciated, veiny Mama Koko (pseudonym), who must have birthed her elders, met another "babe", selling "human hairs". The wigs' seller, Sharon (pseudonum), has a curvy stature, chocolatey, of an average height, about 1.6 metres. Her curly brown hair, pink lips and dimples make people buy even what they don't need. When she smiles, the diastema that salutes her customer is a good definition of "mumu button".
"Good day Sherry," Dora greeted. "Good day Ma'am" Sharon replied. "I need good human hair, just like the one on you". (With that weakening smile), Sharon said, "I always have the best you know, but do you have all it takes" (smiling again). "I hope you won't cut my neck again today". Both ladies laughed uncontrollably. "For how much do you sell this one, Sherry?" "Just 19,500 naira". "Mehn… I love it". She gave Sharon 20,000 naira, as Sharon was still looking for 500-naira change, Dora left, telling her to leave the change.
The two scenes above show the kind of treatment many rural women go through. They are treated with contempt; they don't get value for their effort. Apart from being greeted by scorching, blazing hell-like sunshine in their farms, they sometimes find themselves breathing like one whose life is being sniffed out with a dryer. Yet they do not give up. They believe that their little contribution to the economy, as smallholder peasant farmers, can help to sustain food security. This belief, possibly, keeps them going, such that they must go to their farms every farming season.
In addition to the teeth they gnash in their farms, sometimes, the rate at which they experience snakebites and scorpion stings makes them sense the smell of each creeping thing that moves, outright. For some, their bodies have entered a covenant with such poisonous creatures to the extent that they do not feel pain any longer, when bitten or stung.
Many of them rely on the produce from their farms for daily survival. Some of them are poor widows, whose children are yet to breakeven, while others are what you would refer to as the breadwinners of their homes. Do not forget that the billows of smoke in their kitchen, while they are cooking is enough to make them see stars and rainbow at the same time, even when the weather is hazy. Some of them are on the verge of losing their sight to kitchen smoke, yet they will not stop cooking and farming.
Thus, rural women need to be pitied, both young and old. According to the United Nations, women and girls in rural areas suffer disproportionately from multi-dimensional poverty. While extreme poverty has declined globally, the world's 1 billion people, who continue to live in unacceptable conditions of poverty, are heavily concentrated in rural areas. Poverty rates in rural areas across most regions are higher than those in urban areas. Yet, smallholder agriculture produces nearly 80% of food in Asia and sub-Saharan Africa and supports the livelihoods of some 2.5 billion people.
Women farmers are as productive and enterprising as their male counterparts but are less able to access land, credit, agricultural inputs, markets, and high-value agrifood chains and obtain lower prices for their crops. It is also estimated that women contribute more than 40% of agricultural labour force globally, in developing countries, and about 50% in most parts of Africa and Asia. More shocking fact is that over 50% of girls from poor rural household will be married at a tender age, to continue the custom of suffering.
Just like Dora, many hardly ever pay what is commensurate with the farm produce purchased from these rural women. Simply because they come from a rural setting, where farming is believed to be the custom, a lot of people believe that they do not deserve much in exchange for their farm produce, since they are proceeds from the free gift of nature—the land. Meanwhile, those who think in that cannot lift a hoe talk more of tilling the ground. The energy required for land cultivation is better imagined than experienced.
Same people who exploit these female rural smallholder peasant farmers are overspending in frivolities. Do not forget that the basic needs include food, shelter and clothing, with food being the most essential. Sometimes, these farmers try to sell off their produce just to avoid losing them to damage. Despite those challenges, they will continue to do their nature-assigned job.
October 15 is celebrated as the International Day of Rural women across the world. The day focuses on promoting gender equality and highlighting the important role played by women in rural areas. The United Nations General Assembly established the International Day of Rural Women on December 18, 2007.
Women, especially in the rural setting, are believed to suffer more, according to the UN, when there is food scarcity, as can be seen in 2020, during the pandemic. Women also earn far less than their male counterparts, despite dissipating same amount of energy in the farm.
This year, the theme for this significant day is "Rural Women Cultivating Good Food for All". A statement released by the UN Women, for this great day, states that, "This International Day of Rural Women offers us a renewed opportunity to commit to a different way of organizing our world, to build on the vision of the Feminist Plan and on the outcomes and multi-stakeholder commitments of the recent United Nations Food System Summit, so that rural women benefit equally from their productivity, with good food enjoyed by all."
Although there are over 1.7 billion girls and women living in rural communities across the world, who hold their communities together like glue, in fact, in Sub-Saharan Africa, most women are responsible for feeding, raising and overseeing the wellbeing of their families, yet these rural women are hardly ever involved in policymaking. Most rural women, in developing countries, are considered uneducated enough to be entrusted with leadership roles.
Thus, this is a call for the country, Nigeria, and citizens to see the potentials of these women. If given commensurate exchange for their produce and considered for good policy and managerial roles, many of them will be able to do exploits like their urban counterparts. They should not be relegated. They are equally civilized in their own way. If Dora could leave 500 naira for Sharon, who sold wig to her, leaving 50 or 100 naira for Mama koko, should not be a burden to her. What's sauce for the goose is sauce for the gander.
Back to News