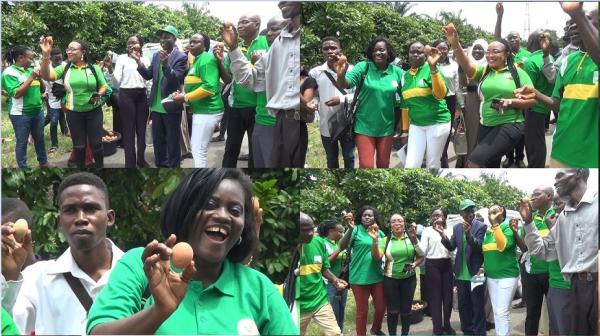 World Egg Day: Cholesterol in eggs, not harmful to health- FCAH&PT Provost, others reveal
By: Abara Blessing Oluchi
Sat, 15 Oct 2022 || Nigeria,
To commemorate the 2022 World Egg Day, the Federal College of Animal Health and Production Technology (FCAH&PT), in conjunction with the Animal Science Association of Nigeria (ASAN), launched a campaign to the sanitize the residents of Ibadan on the importance of egg.
The theme of this year's World Egg Day is 'Egg for a better life.' Scientifically, it is been proven that Eggs are packed with proteins that play important roles in brain and muscle development, illness prevention and overall wellness of the body.
Research has shown that egg contains 'High-density lipoproteins' which is very good for the body.
The campaign was held at the Ministry of Agriculture, Oyo State Secretariat, Agodi Ibadan, on Friday.
The Chairman of the World Egg Day, Oyo State chapter, Dr Amusan Samuel Ayotunde, who spoke with CEOAFRICA correspondents, on the cholesterol content of eggs said that it is important to know that there are two types of cholesterol; the one that is good for the body and the one that is not.
According to him, egg contains a nutritious type of cholesterol which is not harmful to the body as long as it is not abused.
He said; ''there are two types of cholesterol and we have discovered that the one that is nutritious is one inside egg. As long as there is no abuse, one egg or maximum two per day doesn't cause any crisis.''
''There is a type of cholesterol that is not good and there is a type that is good. The one that is good is what we discovered is high inside egg. High-density lipoproteins is very good and we can't say because of cholesterol people shouldn't eat egg ''
Speaking further, he adviced people to desist from drinking raw egg; this he noted is dangerous to the body.
''Raw egg is not nutritious and it is harmful to our health, the best form of egg is boiled egg, a properly boiled egg is very good because when fried, some of the oils used have very high cholesterol,'' Amusan added.
On the same vain, the Deputy Provost (Administration) and Head of the Human Capacity and Development Committee of the College, Dr Ogunleke Funmilayo Oladunni, said egg contains a lot of nutrients, which has a high biological value.
''We advocate that people should eat an egg a day, children should be encourage to eat at least an egg daily until they are 18, once you are 18 ensure that you take an egg a day not more.''
''But children can take more because their body can metabolize it faster. They are younger and active; they jump up and down, their activity range is so high. The way they metabolizes it is higher, so we don't have any risk so to say, even though we encourage people to eat everything in moderation."
The provost advised people who don't eat the yolk part of egg due to fear of cholesterol to eat both the egg white and the yolk as this does not cause any harm to the system.
''The white of an egg is called the 'albumen' and it is rich in protein and when you talk about protein you are talking about animal protein, which contains all the essential amino acids in excellent proportions.''
''However the yolk is referred to as the ball of cholesterol, it contains cholesterol. But cholesterol is not poisonous, it is not a poison. If you are too careful and everything you eat does not have cholesterol, your body will manufacture cholesterol, because the body also needs cholesterol.''
''If you still eat your egg with that one yolk, it is still ok sincerely,'' she added.
Ogunleke advised that adults should take more of boiled egg than fried. On the part of drinking raw egg, she said it is advisable to drink raw egg.
"Egg contains an anti-nutritional factor called Avidin, which has anti-nutritional factor. Once, it is boiled or half-boiled the anti-nutritional factor is already removed.
So it is important you take your egg boiled, half-boiled more importantly so that you can get all the nutrients. She concluded.
Similarly, an animal scientist and lecturer at the Federal College of Animal Health and Production Technology, Dr Johnson Ayodeji Oluponna, who spoke on the abuse of egg, said egg can be abused when not consumed in moderation.
''Egg can be abused if you take too much of it, it can constitute problem to the health of the individual.''
''It should be taken one per day but when it is going to 3-4 per day it is going to cause what we call a bad cholesterol, which can cause attack.''
''Raw egg is actually not very much advisable because there can be so many things that can be there, that can cause disease. It is important to apply heat, but when the heat becomes too much it will cause damage to the nutritive value of the egg.''
The representative of the Permanent Secretary, Ministry of Agriculture, commended that FCAH&PT and ASAN for their efforts to improve the poor state of Agriculture in the State.
Back to News