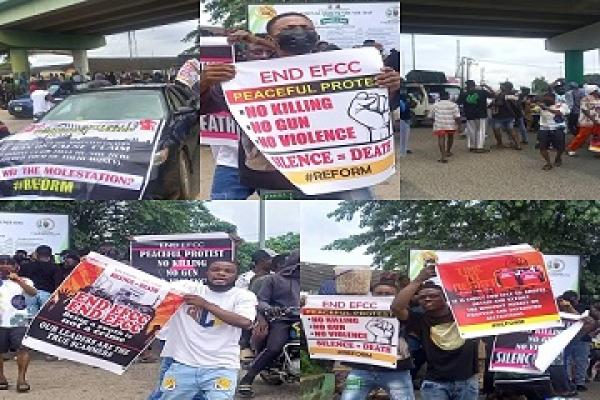 Ibadan youths protest illegal arrests, wants EFCC scrapped
By: News Editor
Thu, 6 Oct 2022 || Nigeria, Ibadan, Oyo State
The train of the protest for the disbandment of the Economic Financial Crime Commission (EFCC), has hit Ibadan, Oyo State, as youths trooped out in their numbers on Thursday, to stage a protest against the Commission.
The youths, who marched to the front of the Oyo State Government Secretariat, Agodi, Ibadan expressed displeasure with the conduct of the anti-graft agency, saying its activities have always been an assault on innocent youths.
The youths, arrived at the Secretariat in a convoy of over 20 vehicles with various banners, placards and sang solidarity songs.
They barricaded the entrance to the secretariat, making visitors and others stranded for several hours.
The protest also led to heavy traffic gridlock along Bodija, Parliament Road and Total Garden roads among other areas in the axis.
Some of the youths, in their 20s and 30s, accused EFCC of carrying out Illegal house search and arrests in their operations, thereby calling for the review and reform of the agency's activities.
One of the protesters, Samuel, who spoke with Newsmen said, he is an engineer and also into real estate, but on several occasions he has been harassed by EFCC officials, who accused him of being fraudster.
He said: "We are not asking them not to do their job but they should do it according to the law. They burst people, collect their phones and search it through. What kind of thing is that?"
It was reported that youths in Delta State also stage a protest to scrap the EFCC.
Back to News