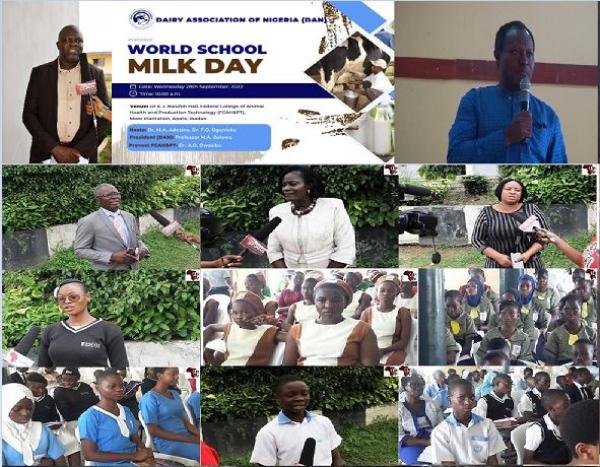 World School Milk Day: DAN, FCAH&PT train pupils on milk consumption in Ibadan
By: Abara Blessing Oluchi
Fri, 30 Sep 2022 || Nigeria,
School pupils below the age of 18 have received training on milk consumption, in an event organized by the Dairy Association of Nigeria (DAN) in collaboration with the Federal College of Animal Health and Production Technology (FCAH&PT), Ibadan, to mark this year's World School Milk Day.
The event, which was held on Wednesday at Dr. K.J Nwufoh Hall, Federal College of Animal Health and Production Technology (FCAH&PT), Ibadan, Oyo state, was graced by the presence of many dignitaries and schools.
World School Milk Day is held all over the world on the last Wednesday of September every year, to celebrate the benefits and success of school milk programmes, with the first edition celebrated in September 2000 and has since become an annual event, promoted by the FAO (Food and Agriculture Organization of the United Nations).
The school milk programmes recognize the health benefits of milk, which contains lots of calcium, that helps children keep their bones and teeth healthy and strong.
The provost of the college, Dr Adekoya Olatunde Owosibo, who declared the event open, while explaining the importance of milk, said that any nation that gives milk to children is passionate about growth and development.
The provost, who was represented by Dr. Isaac Olusegun Ayodeji, the Deputy Provost (Academics), explained that drinking milk is good for the body system, as it helps children grow faster and develops the brain.
Dr Funmilayo Oladunni Ogunleke, the secretary general of the DAN and Deputy Provost (Administration) of the college, while speaking at the event, urged Nigerian government to emulate Australia, Canada, China, Ethiopia, France, Poland, Switzerland, USA, England and others that are practising school milk programme in order to make her children grow healthier.
She said, "We are celebrating the World School Milk Day so that the public would know the importance of taking milk. It is celebrated globally to ensure good child nutrition. This day is particularly focused on students in school that are below 18. Milk is a very important nutritious food. It contains protein that is necessary for growth and development. It prevents toothache, cancer, obesity and all other diseases. Our children should be encouraged to take milk daily. It will give them retentive memory and make them grow better. Drinking milk can never cause cancer. It will even help you to grow healthier."
"The awareness of taking milk is very low as at today. Because of the economic situation, people are not giving their children milk. Of course, milk is expensive. The government needs to support milk consumption. There should be a policy where all children are given milk in schools. They should not wait till every last Wednesday of September before talking about the importance of milk consumption."
The Zonal Officer, National Agricultural Extension and Research Liaison Services (NAERLS) and member of DAN, Dr Adewunmi Adesina, urged the federal government to incorporate milk into the school feeding programme.
He also urged parents to give their children milk, as it helps to build their brain and prevent against diseases.
He said, "Today is marked to create awareness about the health benefits of the consumption of milk among the school children, because it is so beneficial to them. At this point, when the federal government is talking about school feeding, they need to incorporate milk into the school feeding."
"We are using this medium to speak with policy makers and parents for them to know the importance of milk consumption. If we give our children milk regularly, it will boost their brain capacity and prevent them against diseases."
Also, Dr Grace Oyinlola Alonge, Director of Extension Services of the college, encouraged individuals to take milk always, instead of taking random carbonated soft drinks that have little or no value for their health.
In the same vein, Chairman, Animal Science Association of Nigeria, Oyo state branch and Chief Executive Officer (CEO), Life Choice Care and Empowerment Foundation, Prof. Adeboye Joseph Omole, stated that milk is required in the body, because it helps to combat fat-related diseases.
In his own admonition, the Second Vice President, Nigerian Institute of Animal Science (NIAS), Prof. Akinyele O.K. Adesehinwa, while stating that children should be considered more in milk consumption policies, as they are still growing, called on the children to imbibe discipline, hard work and resilience, and shun the desire for illegitimate means of achieving success.

Back to News