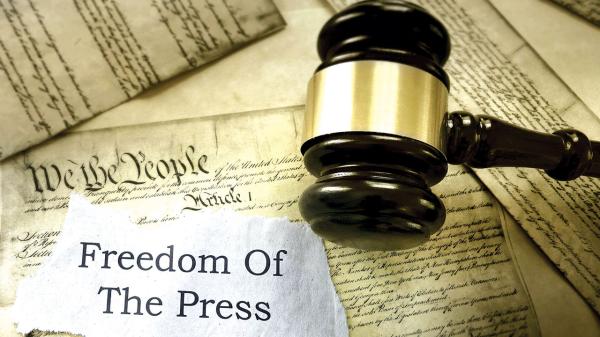 Controversies as Nigeria celebrates World Democracy Day titled protecting press freedom
By: Abara Blessing Oluchi
Thu, 15 Sep 2022 || Nigeria,
All who have heard this year's theme of "Democracy Day" have continued to express mixed feelings over Nigeria's celebration eligibility status for the theme. What comes to your mind when you hear "Protecting Press Freedom for Democracy"?
Despite numerous attacks and threats to press freedom, as many have observed, Nigeria has joined the world to mark the International Democracy Day. It is observed annually on September 15, as established by the United Nations (UN), to review the state of democracy around the world and to promote democracy and its principles regionally or internationally.
According to Abraham Lincoln, who ruled as the 16th President of the United States of America (between 1861 and 1865), democracy is the government of the people, by the people, and for the people.
Democracy is a practice or system of administration or governance where people have rights to participate in the decision-making process of their nation or organisation, rather than being controlled by a government. It is closely linked with human rights. Democracy is only achievable when everyone has the right to vote or participate in election regardless of race, gender, or other factors related to inclusion and equality.
Democracy is a fundamental element for a safe and peaceful society. When democracy is absent, life may face unimaginable challenges that are often incomprehensible. In a free society, people may take their freedoms for granted. In many places around the world, however, democracy is still a dream.
Generally, democracy started in Athens, Greece. It was a direct democracy, where everyone would come out to take part in decision-making. As nations advanced, there was need for indirect democracy, which is widely practiced today across the globe. In that sense, people elect or appoint those who represent them in making decisions rather than doing so themselves.
The United Nations General Assembly (UNGA) passed a resolution in 2007 that September 15 of each year would be observed as the International Day of Democracy. Their goal for this day is to promote governments' role in maintaining open democracy among all member nations of the UN Charter and to celebrate the system of values democracy promotes, giving citizens the power to make decisions regarding all aspects of their lives.
International Day of Democracy was held for the first time on 15th September, 2008. In their efforts to advocate for democratic societies around the world, the UN serves a variety of purposes, including monitoring elections, working to strengthen democratic institutions and accountability, and assisting nations recovering from conflict to create their own constitution.
From democracy's birth in ancient Greece, thousands of years ago till today, the foundation of a democratic society is the ability of its people to participate in the decision-making process of their nation. This can only happen when everyone is allowed to vote regardless of race, gender or other factors, meaning that inclusion and equality are also important to the success of a democratic society.
Each year, the International Day of Democracy commemoration focuses on a specific theme identified and suggested by the United Nations. However, this year's theme is tagged "Protecting Press Freedom for Democracy". Thus, this year's International Democracy Day will focus on the importance of media freedom to democracy and peace, and delivering on the Sustainable Development Goals.
To mark International Democracy Day this year, the UN Office for Partnerships collaborates with the UN Democracy Fund to host a discussion in the SDG studio, as part of the SDG's roundtable series. The conversation will showcase why protecting media freedom is a critical component of a healthy democracy. Moreover, it will propose and discuss solutions for the achievement of SDG 16 - Peace, Justice and Strong Institutions.
UNESCO has reported that 85 per cent of the world's population experienced a decline in press freedom in the past five years. Media, globally, are increasingly facing attacks, online and offline, increasing detention, ranging from the use of defamation laws, as well as cybersecurity or hate speech laws, to curb online expression and the growing use of Strategic Lawsuits Against Public Participation Laws (SLAPPS) and surveillance technologies to target them and hamper their work. The COVID-19 crisis has also shown how it has become more critical than ever for media to gather and evaluate facts and fight disinformation. Equally critical, is ensuring online safety and security.
Women journalists are particularly impacted. UNESCO and the International Center for Journalists (ICFJ) found that 73 percent of 714 female journalists from 125 countries have reported experiencing online violence in the course of their work.
Attempts to silence journalists are growing more brazen by the day and they often pay the ultimate price. From 2016 to the end of 2021, UNESCO recorded the killings of 455 journalists, who either died for their work or while on the job.
Nigeria also has its place in this ugly trend as she has dropped to 129 from 120 in the latest ranking of press freedom across 180 countries. This is not so good for the country. According to the ranking, "Nigeria is one of West Africa's most dangerous and difficult countries for journalists, who are often watched, attacked, arbitrarily arrested and even killed."
It noted that while the country has a rich and diverse media landscape, the level of government interferences in the news media is significant. The report claimed that, "It can involve pressure, harassment of journalists and media outlets, and even censorship. In 2021, the 'Peoples Gazette' news site was blocked after it revealed that privileges were given to the son of a member of the president's inner circle. Twitter was suspended for seven months after it deleted one of the president's tweets. Media outlets were ordered to delete their Twitter accounts as a 'patriotic gesture'."
While Nigeria's constitution protects freedom of expression and opinion, there are many laws that make it possible to obstruct the work of journalists. The report said, "Several very dangerous laws regulating social media have been proposed in recent years, causing an outcry".
While media crackdowns have become more visible in recent years, Nigeria's history speaks to the issue's persistence. As early as 1986, Newswatch's Editor-in-Chief and critic of Ibrahim Babangida's military government, Dele Giwa, was assassinated by a parcel bomb at his home in Lagos. In 1995, journalists, Kunle Ajibade, Chris Anyanwu, George Mbah, Ben Charles-Obi, and Shehu Sanni, were convicted, for reporting on an alleged coup plot.
Over two decades later, on 24th October 2020 (just four days after the Lekki tollgate shooting), 20-year-old journalist, Pelumi Onifade, was shot and arrested, despite wearing a professional jacket (Onifade later died in police custody). Last year, 2021, the Nigerian Union of Journalists reported that at least 120 journalists had been detained in the country and that many others had fled abroad to avoid harassment, threats and death.
However, some in the industry believe the situation has improved over the years. Musikilu Mojeed, Editor-in-Chief of Premium Times and president of the International Press Institute, Nigeria Chapter, explained that press freedoms have improved since the military era and that the situation today is 'mixed'. According to Mojeed, the media can currently report on most issues, but 'there are repeated attempts by the government to censor the media, hamper the media, and hamper reporting in so many ways.'
Meanwhile, President Muhammadu Buhari has reiterated the commitment of his administration to maintain the freedom of the press, and urged media professionals to wield such freedom responsibly. Femi Adesina, the President's spokesperson, in a statement in Abuja, quoted Mr Buhari as describing freedom of the press as "an irreducible minimum in a democracy that will flourish", adding, however, that the freedom must be used responsibly.
"Everything that is permitted must have rules of correctness, particularly in a polity seriously challenged as ours now. The media must be sensitive to what we are going through as a country; anything that will exacerbate the situation and further inflame passions and emotions should be avoided. The media needs to ensure that while informing, educating, entertaining and setting agenda for public discourse, it does not encourage incendiary words and actions that could further hurt our unity in diversity."
He maintained that licentious freedom was different from freedom with responsibility, and charged the Nigerian media to embrace the later, rather than the former. He charged those who manage information for government to make public interest their guide, while also encouraging the media to use the Freedom of Information Act to make its jobs easier.
Stating the importance of press freedom, the UN Secretary-General, António Guterres, in his message for the International Day of Democracy, stressed that democracy cannot survive without free press and freedom of expression.
The Secretary-General urged governments, media organizations and technology companies everywhere to support the work of the media in speaking truth to power, exposing lies, and building strong, resilient institutions and societies.
"Today marks the 15th anniversary of the International Day of Democracy. Yet across the world, democracy is backsliding. Civic space is shrinking. Distrust and disinformation are growing. And polarization is undermining democratic institutions. Now is the time to raise the alarm. Now is the time to reaffirm that democracy, development and human rights are interdependent and mutually reinforcing. Now is the time to stand up for the democratic principles of equality, inclusion and solidarity. And stand with those who strive to secure the rule of law and promote the full participation in decision-making," he said.
He further emphasized that, "This year, we focus on a cornerstone of democratic societies – free, independent and pluralistic media. Attempts to silence journalists are growing more brazen by the day – from verbal assault to online surveillance and legal harassment – especially against women journalists. Media workers face censorship, detention, physical violence, and even killings – often with impunity. Such dark paths inevitably lead to instability, injustice and worse. Without a free press, democracy cannot survive. Without freedom of expression, there is no freedom. On Democracy Day and every day, let us join forces to secure freedom and protect the rights of all people, everywhere. Thank you."
Despite Nigeria's claim on protecting the sanctity of press freedom, the incident of Mr Agba Jalingo, the Publisher, "Cross River Watch", as well as other journalists, still proves otherwise, as the man of the pen profession was accused of terrorism for writing about N500 million, approved by the Cross River state's government for the floating of the Cross River State Microfinance Bank, which could no longer be accounted for.
While former Vice President, Federal Republic of Nigeria, Alh. Abubakar Atiku, has pledged that if elected into power, his administration will ensure press freedom, via his social media handle, other social media users like Maiwada Adamu and Aliyu Muhammad believe that "Democracy Day" should only be celebrated by countries that practice true democracy and not Nigeria.

Back to News