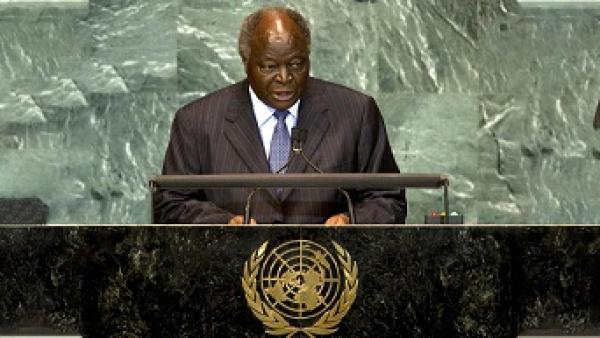 Queen Elizabeth was a 'towering icon of selfless service', says Kenya's President
By: News Editor
Sat, 10 Sep 2022 || Kenya, Nairobi
The outgoing Kenyan President, on Friday described Queen Elizabeth II as "a towering icon of selfless service" who occupied a special place in Kenyans' heart.
President Uhuru Kenyatta, who disclosed this while declaring three days National mourning in honour of the late Monarch, emphasised the Former British's Colony's close ties with the Queen.
"Rarely has one person so epitomised the very best of humanity and leadership through selfless public service,"
"The People of Kenya have always had a fondness for the magnificent and graceful twenty-five-year-old royal who visited our country as a Princess and left it as Queen.''
Recall that Queen Elizabeth was on a visit to the Former Colony in February 1952 when she received News of her father's death while staying at the Treetops hotel, a remote game-watching lodge in the Aberdare forest.
Kenya was the first stop on the tour of the Commonwealth she had embarked on with her husband, Prince Philip in place of her ill father.
The president said that Kenya will observe a period of National mourning until sunset on Monday, with the flags at Government buildings, Military bases, Naval vessels and Overseas missions to be flown at Half-Mast for the same duration.
''Kenya will forever hold Queen Elizabeth II in a special place in our individual and collective hearts".
Kenyatta, whose father Jomo Kenyatta was the Country's first President following Independence from Britain in 1963 had earlier said ''he had received the sad news… with great sorrow and a deep sense of loss".
Meanwhile, Two decades after Kenya achieved independence, the Queen returned to the country on the invitation of then president Daniel arap Moi.
Back to News