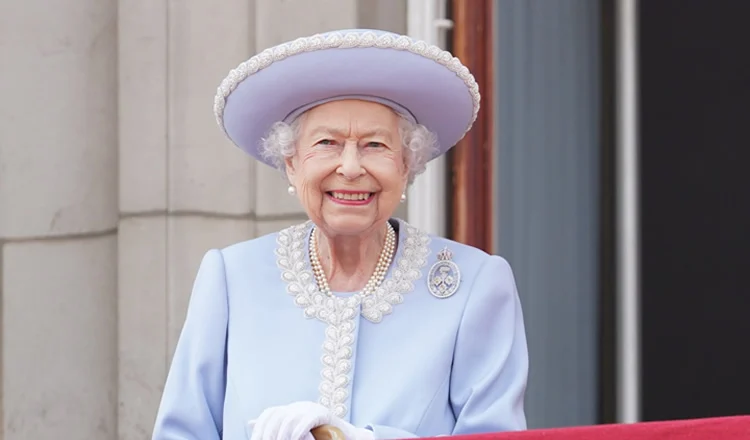 World Leaders pay tributes, as Britain mourns
By: News Editor
Fri, 9 Sep 2022 || United Kingdom, Buckingham Palace
Eulogies from Global leaders and leading personalities all over the World poured in for Queen Elizabeth II, the United Kingdom's longest reigning monarch, who died at the age of 96 on Thursday.
The Monarch died peacefully at Balmoral Castle, her Estate in the Scottish Highlands in the afternoon marking the end of an era in the United Kingdom.
Her death was announced by Buckingham Palace, attracting glowing tributes from Global leaders who described her in glowing terms.
The Crown was passed immediately to her son and heir Charles, who will officially be known as King Charles III.
Two members of staff posted the formal notice of the Queen's death on an easel on the railings of Buckingham Palace;
"The Queen died peacefully at Balmoral this afternoon. The King and The Queen Consort will remain at Balmoral this evening and will return to London tomorrow."
Recall that CEO Africa had On Wednesday reported that there were concerns over her health when Buckingham Palace announced that she had postponed a virtual meeting of her Privy Council after being advised by doctors to rest.
On Thursday, the palace disclosed that she was under medical supervision, adding that she said she was "comfortable" at Balmoral.
Shortly after her death was announced, mourners gathered at Buckingham Palace to pay tributes.
Born Elizabeth Alexandra Mary Windsor, emerged as the Queen in February 1952 after the death of her father, King George VI and reigned for 70 years.
The Queen's demise was greeted with stunned silence around the World followed by reactions from Global leaders and ordinary people as the flag was lowered at Windsor Castle, the Queen's beloved home.
Castle staff covered visitor signs in black paper as crowds gathered and laid flowers and candles.
The UK Prime Minister Liz Truss, who was appointed by the Queen on Tuesday, described her as "the rock upon which modern Britain was built.''
"Today, the Crown passes, as it has done for more than a thousand years, to our new monarch, our new head of state, His Majesty King Charles III. With the King's family we mourn the loss of his mother and come together. We offer him our loyalty and devotion, just as his mother devoted so much to us for so long.''
The Former British Prime Minister Tony Blair described the Queen as the Matriarch of the United Kingdom;
"We have lost not just our monarch but the matriarch of our nation, the figure who more than any other brought our country together, kept us in touch with our better nature, personified everything which makes us proud to be British,"
"We will mourn her. We will miss her. But our overwhelming sentiment will be of gratitude, profound, heartfelt and sincere thanks for what she did, what she stood for, for the life she lived and for what she gave us, her grateful subjects. Her reign was indeed glorious. And it was our great good fortune to have had her reign over us."
The Nigerian President, Muhammadu Buhari in a statement by his spokesman, Garba Shehu, expressed sadness over the monarch's death;
"My family and I and the more than 200 million Nigerians have learned with immense sadness of the passing of the Queen and the end of her unique and wonderful 70 year reign. Her late Majesty was the only British Sovereign known to 90 percent of our population.
"Our thoughts and sincere condolences are with the Royal Family and the people of the United Kingdom and the entire Commonwealth as we join the entire world in mourning her loss."
The United States President, Joe Biden and First lady Jill Biden, in a statement said Elizabeth was more than a monarch, describing her as a steadying presence and a source of comfort for many Britons;
"Her Majesty Queen Elizabeth II was more than a monarch. She defined an era. In a world of constant change, she was a steadying presence and a source of comfort and pride for generations of Britons, including many who have never known their country without her.
"An enduring admiration for Queen Elizabeth II united people across the Commonwealth. The seven decades of her history-making reign bore witness to an age of unprecedented human advancement and the forward march of human dignity."
"In the years ahead, we look forward to continuing a close friendship with The King and The Queen Consort. Today, the thoughts and prayers of people all across the United States are with the people of the United Kingdom and the Commonwealth in their grief."
The Canadian Prime Minister, Justin Trudeau also expressed his grief over the monarch's passing, stating that the Queen's service to Canadians will forever remain an important part of his Country's history;
''It was with the heaviest of hearts that we learned of the passing of Canada's longest-reigning Sovereign, Her Majesty Queen Elizabeth II,"
"She was a constant presence in our lives and as we look back at her life and her reign that spanned so many decades, Canadians will always remember and cherish Her Majesty's wisdom, compassion, and warmth. Our thoughts are with the members of the royal family during this most difficult time."
French President Emmanuel Macron tweeted; "Her Majesty Queen Elizabeth II embodied the British nation's continuity and unity for over 70 years. I remember her as a friend of France, a kind-hearted queen who has left a lasting impression on her country and her century."
The Ukrainian President, Volodymyr Zelenskyy expressed sorrow over Elizabeth's death on behalf of the war-weary people of Ukraine.
"It is with deep sadness that we learned of the death of Her Majesty Queen Elizabeth II," Zelenskyy wrote in a tweet. "On behalf of the people, we extend sincere condolences to the @RoyalFamily, the entire United Kingdom and the Commonwealth over this irreparable loss. Our thoughts and prayers are with you."
Former US President, Bill Clinton noted that throughout her remarkable 70-year reign, she led Britain through great transformations with unfailing grace, dignity, and genuine care for the welfare of all her people;
"In sunshine or storm, she was a source of stability, serenity, and strength.''
The Former US Presidents, George Bush and Jimmy Carter were also effusive in their praises for the departed monarch, whom they said inspired many Americans.
Former American President Barack Obama and first lady Michelle Obama, wrote,
''Back when we were just beginning to navigate life as President and First Lady, she welcomed us to the world stage with open arms and extraordinary generosity. Time and again, we were struck by her warmth, the way she put people at ease, and how she brought her considerable humour and charm to moments of great pomp and circumstance.
"Like so many, Michelle and I are grateful to have witnessed Her Majesty's dedicated leadership, and we are awed by her legacy of tireless, dignified public service."
Ex-US President, Donald Trump, said he will cherish his time together with the Queen, recalling her generosity and sense of humour;
"Melania and I will always cherish our time together with the Queen, and never forget Her Majesty's generous friendship, great wisdom, and wonderful sense of humour. What a grand and beautiful lady she was there was nobody like her.''
Back to News