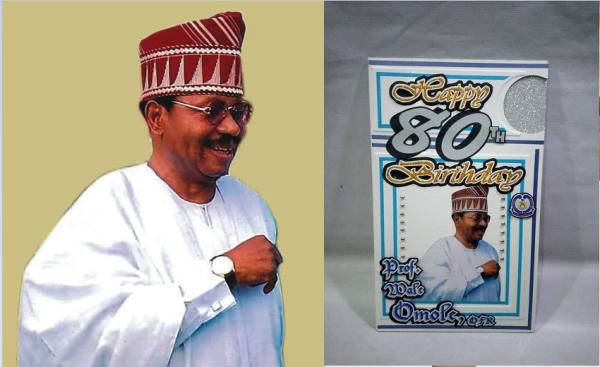 Chrisland University hails former OAU VC, Prof. Wale Omole at 80
By: Cletus Sunday Ilobanafor
Wed, 31 Aug 2022 || Nigeria,
The management of Chrisland University, Abeokuta, Ogun State, has congratulated former Vice Chancellor of Obafemi Awolowo University, Prof. Wale Omole, on his 80th birthday.
This was made known to CEOAFRICA in a statement signed by Prof. Mrs Chinedum Peace Babalola, Vice Chancellor of Chrisland University.
The VC extolls the leadership capacities of Prof. Omole who is a member of the Board of Trustees at Chrisland University and has demonstrated leadership capacities in all level of professionalism.
She said: "On behalf of the Chancellor and Chairman Board of Trustees, High Chief Dr. (Mrs.) Winifred A. Awosika (OON), Pro-Chancellor, Distinguished Professor Ayodeji Olukoju, Staff and Students of Chrisland University, I write to congratulate you on the occasion of your 80th birthday. You are the perfect example of a down-to-earth person.
"We give all the glory and praises to God for strengthening and upholding you to reach this landmark age.
"Sir, this occasion of your birthday affords us another opportunity to reflect on your numerous and laudable achievements made possible by your unflinching resolve to touch humanity by providing leadership insight, direction, knowledge, wisdom, benevolence and resourcefulness to a huge number of people and organizations.
"You have served in many leadership capacities and you have demonstrated and still demonstrating a high level of professionalism. This you have continually exhibited in your contributions as a member of the Board of Trustees at Chrisland University.
"On this distinct occasion, we at Chrisland University celebrate your birthday and lifetime service to God and humanity. We can never forget the great impact you have made in the University.
"May God bless your future years more than before. May you endure in good health and sound mind."
CEOAFRICA reports that Prof. Omole is a product of the then University of Ife, who was the first ex-student of the University to become Vice-Chancellor of the same Institution. Omole recorded a great milestone when he became a professor at the age of 38. He had a much-cherished academic career till June 1999 when he retired.
Born to Pa Emmanuel Adedeji Omole and Mama Beatrice Aarinola Omole, Adebowale attended Ilesha Grammar School (1956-1962); had a stint as a civil servant at the Ministry of Agriculture and Natural Resources, Ibadan, before his tertiary education at the University of Ife, an institution that shaped his life, times and remarkable career.
Professor Wale Omole, OFR is a sound academic whose views on agriculture, nutritional biochemistry and health physics are highly respected internationally. He enjoys a rare and singular honour as the first alumnus of the Obafemi Awolowo University, Ile-Ife, to be appointed Vice Chancellor. His appointment as the Vice Chancellor of the University on November 30, 1991 which spanned eight years altogether, was a period that saw Professor Omole applying his vast knowledge on the affairs of the university.
Professor Omole, OFR had his PhD at the University of Alberta Edmonton, Canada between 1971 and 1973. He became a Professor in 1980 and he was made the first alumnus dean of the Faculty of Agriculture in 1983. His ground-breaking inaugural lecture in January 1983 titled: 'waste recycling in the food chain – turning thrash to cash' was an idea he conceived long time ago which tied with the Agricultural Transformation Agenda of President Goodluck Jonathan led Government.
The story of Professor Wale Omole's life from his secondary school, the university and post university days is a great study in resilience, courage and uncommon strength of character. These were the very vital ingredients which he had to fall back on to successfully navigate the very turbulent storm that constantly raged and threatened to truncate his enviable career path. From a very humble God-fearing Christian background, Professor Omole was taught very early in life to hold dearly the virtues of discipline, integrity and hardwork which he combined perfectly along the line with his intellectual and spiritual aspects.
After his second school education at Ilesa grammar school, Ilesa in 1962 and his inability to secure the required marks in his HSC for the award of scholarship to further his studies, Omole, without the consent of his parents headed to Ibadan where he secured employment with the Minister of Agriculture and Natural Resources. This decision took off the burden of paying school fees from his parents as he was able to pay for his university education all by himself. To augment his meagre resources at the time Professor Omole did the job of a disc jockey and played the guitar with live band in Mokola, Ibadan. He also leveraged on his good looks to become a much sought-after model for corporate organizations with the additional income he was making from his part-time job. With this, he was able to pay for his tuition fees, feed, buy books, buy clothes and had enough as pocket money at the university at the time.
However, the person that changed the story of Professor Wale Omole's life completely was his late wife Mrs Folasade Omole whom he described as a simple and elegant woman. Before she died in July 2020, she was the deputy registrar at the Obafemi Awolowo University, and secretary, Institute of Agricultural Research and Training (I.A.R.& T), Ibadan.
Professor Wale Omole is a citizen of the world who has bagged several awards both locally and internationally. He has also played different roles in different fields. He is the Chairman, Editorial Board of The Guardian Newspapers. He was also part of the team that kick started the Yoruba Academy, a multi-disciplinary institution that brings together scholars, politicians, businessmen and experts in Yoruba language, culture, economics, law, science and technology, and governance.
Back to News