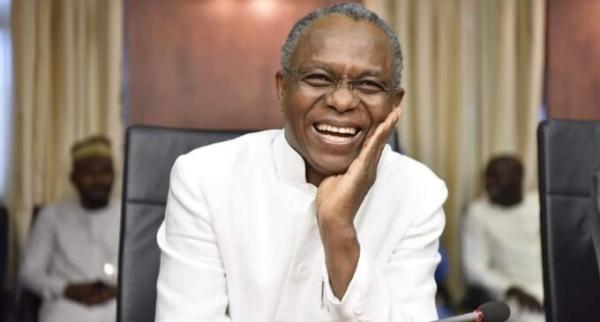 'El-rufai mocks plan to hold two million man match for Peter Obi in Kaduna
By: News Editor
Mon, 15 Aug 2022 || Nigeria,
Nasir el-Rufai, governor of Kaduna, has mocked a plan by supporters of Peter Obi, presidential candidate of Labour Party (LP), to hold a "two-million-man march" for him in the state.
Supporters of Obi across the country have been holding these marches to show their solidarity with him.
There was a march for the LP presidential candidate in Nasarawa state recently.
In a tweet on Monday, el-Rufai who is of the All Progressives Congress (APC) said he hopes they have two hundred people in the streets of Kaduna for the march.
The governor said they can only get the figure they are projecting by "importing" people to the state.
"In Kaduna? Not Kaduna Twitter?," the governor who is completing his second term said.
The governor tweeted, In Kaduna? Not Kaduna Twitter? –
grin grin grin grin grin grin grin grin grin grin grin grin grin grin I hope you get Two Hundred persons on the streets, including those 'imports' that can't open their shops on Mondays, and came on overnight bus last night!!
I jus' dey laff, wallahi tallahi!"
Recently, the Peter Obi Support Network, in a statement, accused the Kaduna State government of blocking a national summit for the Labour Party candidate from holding in the state.
The statement read partly, "We condemn the decision of the Governor of Kaduna State, Mallam Nasir El-rufai to block the hosting of the northern summit for Peter Obi and Senator Yusuf Datti Baba-Ahmed, the Presidential candidate of Labour Party and his running mate at the Arewa House in the state.
"The decision of the governor is disheartening at the critical point in time when northern Nigerians are desperate for development and liberation from poverty due to maladministration.
"The governor of Kaduna State is intimidated by the rising profile of Peter Obi across the length and breadth of the country.
"The governor should know that this is a "Peoples Movement" which can never be stopped.
"The movement represents all oppressed Nigerians and everyone that desires good governance, and Governor El-rufai is too small to suppress
Back to News