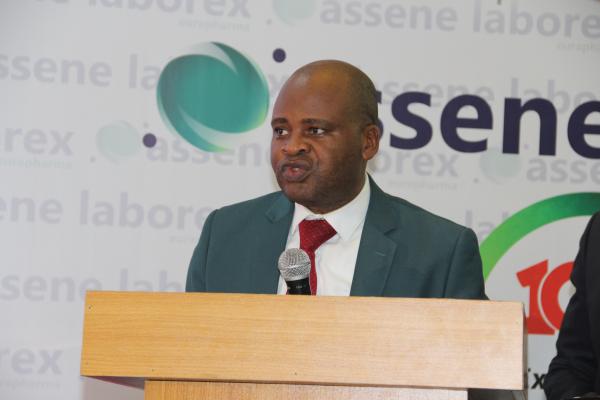 AJUMOSE EKO 2022: ACPN National Chairman, Oladigbolu lauds the role of Pharmacists in nation building
By: Cletus Sunday Ilobanafor
Tue, 2 Aug 2022 || Nigeria,
Festac Town in Lagos State was agog last week as the Association of Community Pharmacists of Nigeria (ACPN) held their annual conference - the 41st National Annual Scientific Conference Tagged 'Ajumose Eko 2022' with the theme: Never Waste a Crisis: Community Pharmacists Learning for Future Preparedness.
In his speech during the opening ceremonies, the National Chairman of the Association, Prince Pharmacist. Adewale Oladigbolu FPSN gladly welcomed participants to the one-in town conference which holds a great and promising potential for all.
While thanking all present with high sense of humility and responsibility on behalf of the National Executive for the opportunity to serve, he assured to pilot the affairs of the Association under his watch, as he and his team have resolved to remain resolute and committed to strive to justify the huge mandate given to them and promising to do beyond all expectations.
The distinguished Pharmacist further went ahead to harp on his achievement so far barely 10 months in office, which are quite outstanding and worthwhile milestone of accomplishments.
First on his list was in the area of collaboration with New Heights Pharmaceuticals and solely sponsored by them. The Association produced and distributed documentation tool kits for Community Pharmacists across the Country. These kits include: Prescription Pad, a Referral Pad and a booklet on the interpretation of Laboratory parameters.
Second; ACPN was well represented at the steering committee of the Federal Ministry of Health task- shifting and task-sharing (TSTS )policy review. On this account, the chairman went further to recognise and praise the efforts of the PSN foundation and Society for Family Health (SFH), in securing grants that made the review of this policy possible. One of the quick gains of that initiative is the proposed adoption of Community Pharmacists as providers of vaccination services; the diagnosis and classification of High Blood pressure, and the initiation of Anti hypertensives; Point of Care Testing (POCT).
Third; COVID- 19 vaccination in Community Pharmacies has been approved via a Memoradum of Partnership(MOP) with the National Primary Health Care Development Agency ( NPHCDA) and ACPN has a National working committee in place to see to the closure of routine Immunization gaps by securing approval for Community Pharmacists(CPs) as Providers. This feat was consolidated through the landmark communication on the 31st of May 2022 by performing the official flag- off of Covid -19 vaccination in Community Pharmacies(CP).
Fourth; in the bid to overcome the challenge of Documentation in Community Pharmacies, ACPN has strengthened its IT infrastructure. This is to help in collating all the data tools of Federal Government Agencies including that of NGOs. All these will be integrated into the ACPN online documentation platform. About four hundred and sixty-eight (468) Community Pharmacists are now on board. The aim of this platform is to have one single tool for pharmaceutical and other data requirements of community Pharmacists.
Fifth; to overcome the challenge of supply chain system for medicines distribution in Nigeria, ACPN has initiated a supply chain platform that interconnects all Pharmaceutical entities in Nigeria. The P2P platform is now operational. The P2P (Premises to Premises or Pharmacy to Pharmacy), is a Pharmaceutical ecosystem to make sure medicines ordering in Nigeria is from and through PCN- registered facilities only. This is simply designed to strengthen the supply chain system, reduce the prevalence of fake medicines and reduce the scare concerns associated with our industry.
In addition to this, products available at community pharmacies will be those without untoward supply chain excursions. This Platform is launched at no cost to all exhibitors, has resulted in significant number of different groups signed up.
Sixth; ACPN is building resilience and supporting Community Pharmacists growth with the aim to develop inventory control software for Community Pharmacists at a much reduced price.
Seventh; ACPN has also develop a retail box (RB) and resolved to put all their digital innovations into the retail box (RB). The Retail Boxes are android devices that do the followings:
A. Host our bespoke inventory software
B. POS capabilities, accepting payments through ATM cards, printing sales receipts
C. Host P2P supply chain linkage platform
D. Host our digital documentation tool for pharmaceutical care healthserves.org
E. Is being positioned to host Polaris bank banking tools. The Association is very hopeful that the retail boxes will improve the impact of community pharmacy practice in Nigeria and will be available for FREE within the next few weeks.
Eighth; for the benefit of members, the Association has developed a strong relationship with Polaris bank by perfecting a dual-purpose ID card for Community Pharmacists in Nigeria. The IDs are co-branded for the Pharmaceutical Society of Nigeria and Polaris bank. They serve our ID card needs because the QR codes on the cards are linked to our databases and the cards are also ATM cards. These ID cards are provisioned for loans of between Two Million Naira only (#2M) and Ten Million Naira only( #100M) for each Community Pharmacies.
Prince Adewale mentioned other areas the Association is looking at which include the following:
A. National Health Insurance Act (NHIA) and the future of Community Pharmacy
B. Launching of Julius Adelusi Community Pharmacy Expansion grants. A community of 230Million Nigerians should be served by more than 6,530 Community Pharmacists.
C. Improvement on the asset base of ACPN
D. Strengthening the administrative system of ACPN
E. Clean medicines Initiative implementation and results coordination
Prince Pharmacists Adewale Oladigbolu FPSN, who is obvious elated by these unprecedented achievements implore the Government to always involve Pharmacists as stakeholders in anything that has to do with the Health of the Society; as frontline Primary Healthcare Providers in the National Health Insurance Scheme and by signing the new Pharmacy Bill. This he believes will go a long way to engender a healthier Nation.
The National Chairman, used the opportunity to thank the CPC headed by Pharmacists (Mrs) Esom-Ibe Agbomma FPSN, the performing National Secretary, Pharm. Eze Igwekanma, the Lagos State Chapter of ACPN and the entire NEC for making the 41st National Annual Scientific Conference a memorable event. He asserted that their contributions are laudable and worthwhile.
Prince Adewale also thanked the corporate sponsors of the conference who he described as trusted partners and friends of the Association. Foremost among these Pharmaceutical companies are Emzor Pharmaceutical Industries Ltd, ASSENE- LABOREX LIMITED, Nature's Field, Bayer Nigeria Limited, Vitabiotics , A&D Medicals Nigeria –LOOD Pressure monitor, May & Baker Nigeria Plc, who he applauded for their unquantifiable supports. Other pharmaceutical companies mentioned are Worldwide Healthcare, Pinnacle Health Pharmaceutical Limited and many others.
Pharm. Oladigbolu concluded by extolling the place of pharmacists as a community helper, and assured that the Community Pharmacists in Nigeria are equipped with great skills and doing great exploits in their space. He said, "We are ready to work to make Nigeria a more beautiful Nation".
Back to News