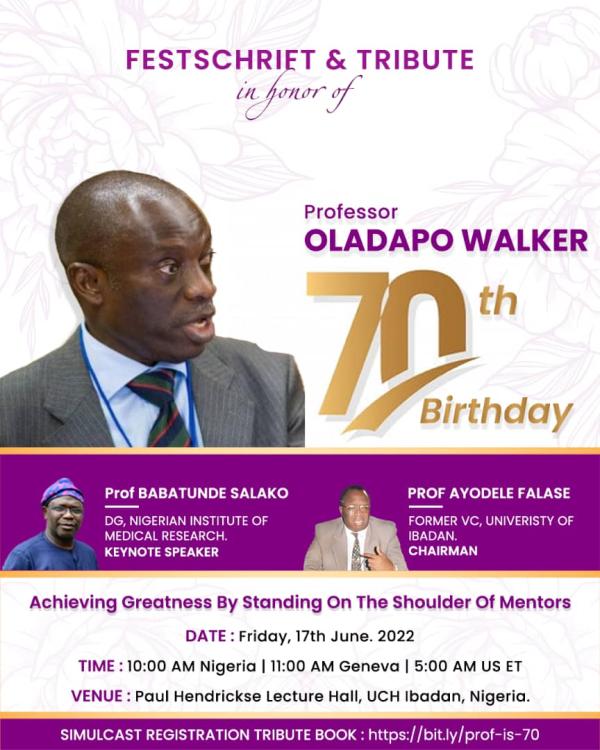 Oladapo Walker: An Icon At 70
By: Abara Blessing Oluchi
Wed, 15 Jun 2022 || Nigeria,
The academic community would on Friday, 17th June, 2022, gathered at the Paul Hendrickse Lecture Hall, UCH, Ibadan, Nigeria, to celebrate the 70th birthday anniversary of no other one but reputable and renown academic icon, Prof. Oladapo Walker.
The exuberant scholar is a Professor of the Pharmacology and Therapeutics.
The symposium which is expected to host dignitaries from all works of life is billed to kick off by 10:00am, with the theme: "Achieving Greatness by Standing on the Shoulder of Mentors."
The high spirited and warm personality of Prof. Oladapo, no doubt may have informed the theme for his 70 th birthday anniversary.
Chairman for the event is Prof. Ayodele Falase; a Nigerian cardiologist and academic and former Vice Chancellor of one of the foremost Nigerian University - University of Ibadan.
The keynote speaker for the birthday anniversary is Professor Babatunde Salako, a clinician of high repute and has been involved in a number of clinical trials on drug development. Professor Salako is the current Director General of the Nigerian Institute of Medical Research.
Commenting on the person of Prof. Oladapo Walker, the Vice Chancellor of Chrisland University, Prof. Chinedum Balalola poured her heartfelt encomiums on the celebrant, describing him as a pacesetter intellectual giant through whom many have been made great.
She said: "He delivered the lecture for our 4th matriculation in Chrisland University. He is our maiden consultant for establishing of College of Basic Medical Sciences (COBAMS). He is currently the maiden substantive Dean of COBAMS and all his services to us are free of charge. He has offered them free and free indeed."
Professor Oladapo Walker is currently Professor of Pharmacology and Therapeutics of Babcock University Ilishan Remo in Ogun State. He is a Fellow of the Nigerian College and West African College of Physicians. He obtained the Doctor of Medical Science Degree (Dr.Med.Sc.) of the Karolinska Institutet in 1987 and shortly after was visiting Research Fellow and Lecturer in the Liverpool School of Medicine in 1987. He was appointed Professor of Pharmacology and Therapeutics of the University of Ibadan in 1995.
As Prof. Oladpo Walker turns 70 years, 17th June, 2022, many said he has really impacted positively on the people, the nation and beyond.
Back to News