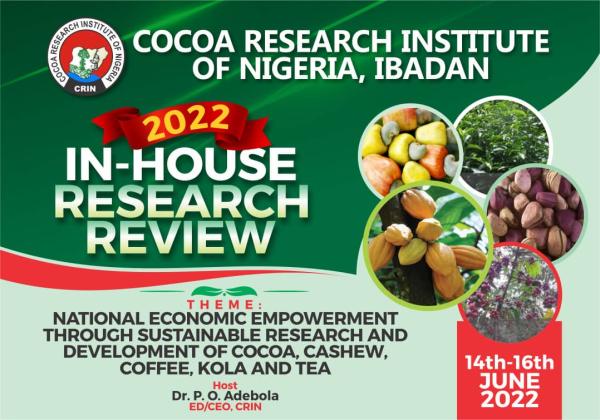 EXCLUSIVE: CRIN sets to hold 3 Day in–House Research Review
By: News Editor
Thu, 2 Jun 2022 || Nigeria,
In line with its research mandate to improve Agricultural research and cash crops farming, the Cocoa Research Institute of Nigeria, (CRIN) Ibadan is organising a 3 Day in–House Research Review. The theme of the research summit is: "National Economic Empowerment through Sustainable Research and Development of Cocoa, Cashew, Coffee, Kola and Tea." The summit which is to take place from June 14th – 16th, 2022 will hold at the Research Institute campus. Ijebu Ode Road Idi Ayunre, Ibadan Ibadan.
In a telephone chat with CEOAFRICA the official media partner to CRIN, the ED/CEO of Cocoa Research Institute of Nigeria who is the Chief Host of the seminar, Dr Patrick O. Adebola, said the institute has over the years recorded breakthroughs in agricultural research works that enhanced the quality of production and the utilization of crops and by-products of the mandate crops.
The programme which is expected to last for three day will host agricultural and crops researchers across the globe; from all works of life to gather and share meaningful ideas and techniques on improved production of cash crops. In his words: "The essence of the programme is to redefine and review the strategic plans of the institute to apply technology in increasing productivity and improving quality and value of the mandate crops."
Cocoa Research Institute of Nigeria, (CRIN) is a national institute with research mandate on Cocoa, Kola, Coffee, Cashew and Tea. The research institute headquarters is in Ibadan, the capital city of Oyo State with substations across the six geo political zones in Nigeria.
Back to News