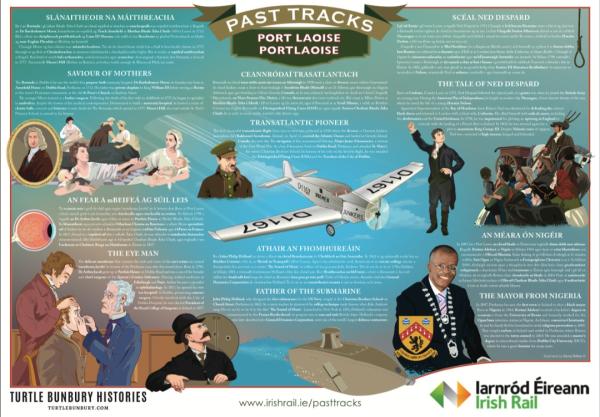 Nigerian-born Irish politician, Rotimi Adebari among 50 prominent people in Ireland
By: News Editor
Sat, 21 May 2022 || Nigeria,
A Nigerian-born Irish politician, Rotimi Adebari, who was a former Mayor of Portlaoise, Ireland, is among 50 prominent people, whose panel decorates train stations, in Ireland.
This was revealed in a publication by Turtle Bunbury, an Irish author, historian, podcaster, publisher and public speaker.
Bunbury partnered Iarnród Éireann Irish Rail to produce 50 history panels installed across train stations in Ireland with each panel telling a brief history of past events and people connected with each vicinity.
In his reaction, Adebari said: "Great to see the history panel at Portlaoise train station. I am humbled and feel honoured to be included among people that history describes as "Legends"!!!
"I remain appreciative to the people of Portlaoise for making the history of electing me into Portlaoise Town Council in 2004, and to my colleagues in the council, for pushing the boundaries and elected me the Mayor of the town in 2007, I say; go raibh maith agat!!! 🙏"
Adebari was elected as the first black mayor in Ireland in 2007. He was born 1964 in Okeodan, Ogun State, and studied economics at the University of Benin.
He is a convert from Islam to Christianity, he fled Nigeria in 2000, and made a claim for asylum on the grounds of religious persecution.
His application was rejected because of a lack of evidence that he had personally suffered persecution, but he gained residency because his third child, another boy, was born in Ireland.
CEOAFRICA reports that Adebari and his family settled in County Laois. Adebari completed his master's degree in intercultural studies at Dublin City University and set up a firm called Optimum Point Consultancy.
In 2004, he was elected as a town councilor in local elections. In June 2007 he was elected as mayor of Portlaoise Town Council (9 members), with support from Fine Gael, Sinn Féin and an Independent councillor.
In the 2009 local elections, he was re-elected to the town council and also to Laois County Council for the Portlaoise electoral area.
Adebari ran as an independent candidate in the 2011 general election for the Laois–Offaly constituency, though failed to get elected.
In that election, he received 628 1st preference votes (0.85%). Then, In 2014, Adebari lost his position as a Loais County Councilor.
Back to News