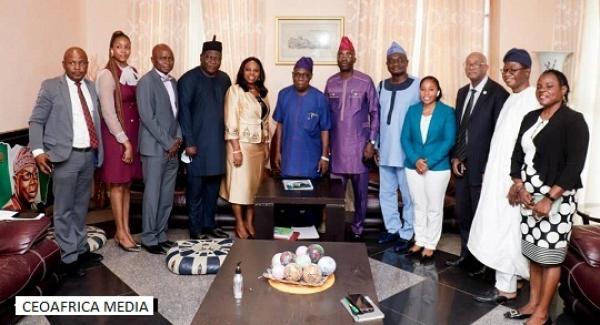 Committee of Vice-Chancellors of Nigerian Universities visits Obasanjo, calls for support for Nigerian Universities.
By: Abara Blessing Oluchi
Tue, 22 Feb 2022 || Nigeria,
The Executives of committee of Vice-Chancellors of Nigerian Universities paid a courtesy call on the former president of Nigeria, President Olusegun Obasanjo for a consultative session and to discuss the happening in the Nigerian university education system.
The visit, which is part of the pre-event activities lined up to celebrate the forth coming 60th anniversary of Nigerian University system, started in October, 1962 in the University of Ibadan.
The general-Secretary of the committee, Prof Yakubu Ochefu, while speaking with CEOAfrica said that the committee kick- started with five Vice-Chancellors, which has now developed into a leadership of 202 vice chancellors representing federal, state and private universities across the country.
He said "the committee is a body that manages the interest of the Vice Chancellors in the sharing of ideas and information."
Yakubu hinted that in celebrating the 60thAnniversary, the committee has decided to begin with events in the first six schools in the six geo-political zones in Nigeria, starting with the University of Ibadan.
The general-secretary further said that there will be basketball championship and marathon events, international conference and the grand finale, where entities who have contributed immensely to the Nigerian Universities will be honoured.
Speaking on the epileptic state of education in Nigeria, while referring to ASUU strikes, Yakubu said that strike is not the answer to the problem, adding that the education sector needs to get the dynamics and funding of education right.
An executive board member and Vice Chairman of the Committee, Prof. Chinedum Peace Babalola who is the current Vice Chancellor of Chrisland University spoke on the session they had with the former Persident Olusegun Obasanjo which she referred to as insightful as they learnt a lot from former president Olusegun Obasanjo popularly called "Baba of Africa".
The AU laureate further said that Obasanjo shared with them from his wealth of experience and dreams for Nigerian Universities.
While giving her verdict on education and the yearly strikes, Chinedum said that the causes and solutions should be looked at critically and should be treated intentionally.
The erudite professor called on stakeholders in Nigeria to contribute towards the growth and progress of education, not relying only on the federal government.
Back to News