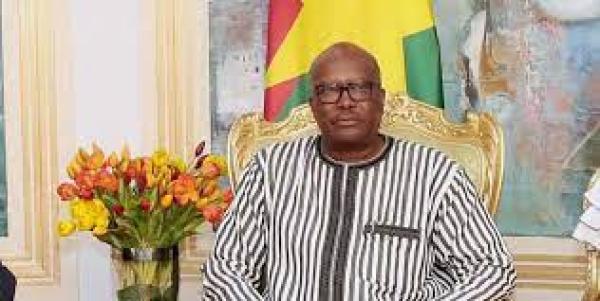 President Roch Marc Christian Kabore
UPDATE: Burkina Faso President Kabore 'Detained' By Mutinous Soldiers
From: CEOAFRICA NEWS: Reported by Timileyin Oni
Mon, 24 Jan 2022 || Nigeria,
Burkina Faso's President Roch Marc Christian Kabore has been detained by mutinying soldiers, according to news reports citing security officials.
CEOAFRICA reported yesterday that heavy gunfire was also heard near Kabore's residence in the capital, Ouagadougou but the government denies that there was any form of coup.
According to latest report, several armored vehicles of the presidential fleet, riddled with bullets, could be seen near the residence on Monday morning. One was spattered with blood.
Two security sources and a West African diplomat said that that Kabore was detained at a military camp. There was no immediate comment by the government, which on Sunday had denied that a coup was under way.
"We just passed the military base where Kabore is alleged to be confined at the moment," journalist Henry Wilkins reported from Ouagadougou on Monday.
"Traffic is circulating as normal but there is an usually high number of military personnel out on the streets around the presidential palace."
"President Kabore, the head of parliament, and the ministers are effectively in the hands of the soldiers" at the Sangoule Lamizana barracks in the capital, two security officials said.
"What we know is that overnight there was a helicopter hovering above the palace and just above the personal house of President Kabore," he said from Senegal's capital, Dakar.
"There were negotiations throughout the day between the mutineers and the government. What the mutineers told an Al Jazeera journalist on Sunday is that they had six demands.
"They said that if their demands were not met then they would take charge and arrest the president and that seems to be what is happening right now."
Back to News