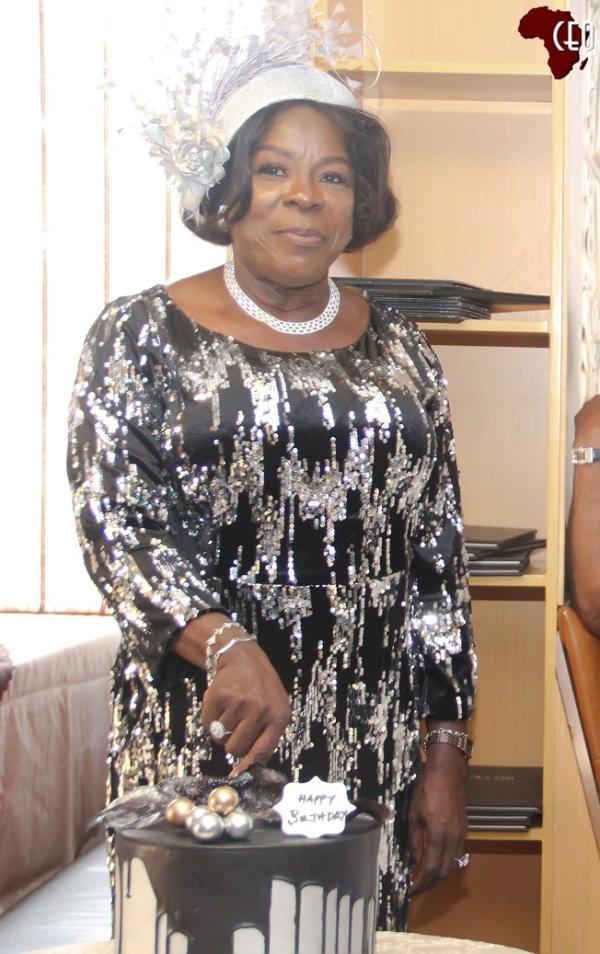 Mrs. Titilola Oyekanle Celebrates 70th Birthday in Grand Style
By: Abara Blessing Oluchi
Wed, 5 Jan 2022 || Nigeria,
It was indeed a memorable day for Mrs. Titilola Oyekanle, as she celebrated her platinum jubilee in grand style.
The colourful event was held at the prestigious Chinese restaurant, Bodija, Ibadan on Monday 3rd January, 2022, and was graced by distinguished personalities including friends, family and several close associates of the celebrant.
The 70th birthday ceremony kicked off with a welcome address by Chief Olu Falomo who served as chairman of the occasion.
In recounting her journey through life, Mrs. Oyekanle gave thanks to God for attaining the good old age of 70, as she never thought she would be able to reach that milestone, despite the different challenges encountered.
The celebrant, Mrs. Titilola Oyekanle
According to her, there were "those dark days when I had to wade through murky waters and ill wind, but God was there. I will keep on thanking Him, I don't have a choice." She felt happy for the chance to be able to celebrate her platinum jubilee with family, friends and loved ones.
Her illustrious career began at the Kaduna Polytechnic where she studied Hotel Management. Subsequently she established her career in the hospitality sector, and went on to work for other top multinational companies including Berger Paints, British American Tobacco (BAT)., Fan Milk and others. After several years of experience spanning various industries, she eventually founded her own business with the establishment of Stay Clean, a dry cleaning and laundry outfit in the city of Ibadan, Oyo State. The business has recorded great success since inception, while striving for more.
While describing her journey in life, she stated that some of the values that have kept her till this time include hard work, passion, dedication, fear of God amongst others. She advised the younger generation to be dedicated and focused, while working hard in order to live long and lead an impactful life. Also, she stressed the need for leadership and good governance as instruments for societal development, as this represents a major area that is generally lacking in the country presently, thereby hindering faster development.
The celebrant, Mrs. Titilola Oyekanle
In her speech, the celebrant, thanked and appreciated everyone present for sparing out time to celebrate with her on such a day while praying for God's blessings.
Some of the guests who spoke about Mrs. Oyekanle, have this to say;
The celebrant, Mrs. Titilola Oyekanle with the Chairman of the occasion, Chief Falomo
Mrs. Yinka Payne, a close friend of the celebrant while giving a remark, described Mrs. Oyekanle as a woman of substance, and interestingly stated that their relationship began over 40 years ago. Some of the other guests who spoke also made glowing remarks about the celebrant and her life, even as they felicitated with her on this glorious occasion.
According to Mrs. Adenike Ogunsugba "I'm like a daughter to her. She is forthright, a principled person and kind. Those were the virtues that attracted me to her."
Mrs. Femi Omololu Thomas said "she is a sister and friend, in the same business and we attend the same church. She is a lovely person, very humorous, you will always enjoy her company and I love her. She is a hardworking lady, which I really admire. I wish her good health, more success and breakthrough"
Mrs. Olufunmilayo Olasewa: "Sis. Titi is a very lovely lady, you can't quantify her, and she has gone through a lot. I am so happy today that she is alive, standing up straight and achieving all that she has. She is a loving mother and a good sister to me. Never a dull moment with her, I wish her the best in 2022."
The event was attended by Chief Olu Falomo, Dr sanya Job, Lady Akisipe, Chief and Chief Mrs Femi Adewumi, Prof and Mrs Layo Process, Otunba Niran Koya, Femi Omololu Thomas, Mrs Abiodun Babatunde, Mr & Mrs Sunday Orekha Lawyer Muyiwa Abimbolu, Mrs Nike Ogunsugba, Mrs Alli, Mrs Ibilola Oyegade, Mrs kemi Ajayi, Mrs Davis, Dr funso Ani, Ms Bola Alo, Pastor Adegbile, Mrs Bunmi Alale, Mrs Sade Hastrup, Lady Abimbola Smith, Ms Yinka Payne, Mrs Funmi Olasewere, Mrs ojewunmi and many others
Highpoint of the event include cutting of the birthday cake, refreshments and Dance! Dance!!, Dance!!!.
Back to News