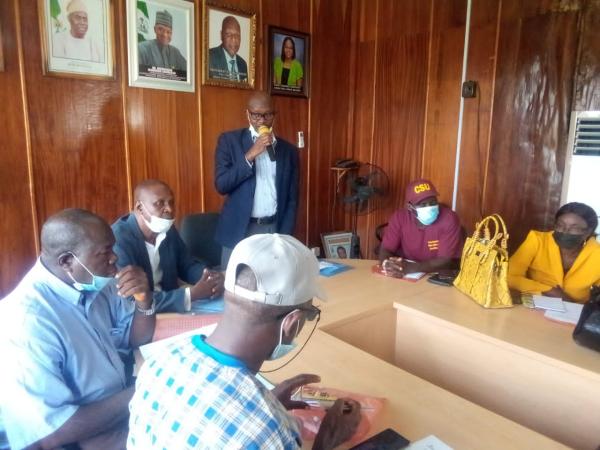 NISS holds Workshop On 'Strategic Agricultural Intervention Services of NISS' at IAR&T, Ibadan
From: Kelvin Ugo Ubaka
Wed, 8 Dec 2021 || Nigeria, Oyo state
Wednesday 8th December 2021:The Nigerian Institute of Soil Science (NISS) on Wednesday held a zonal workshop on the Strategic Agricultural Intervention Services of NISS in South West Nigeria with the topic; Activities of South-west Zonal Office of NISS.
The 2-day workshop holding at the Institute of Agricultural Research and Training (IAR&T), Obafemi Awolowo University, Moor Plantation, Ibadan, is one that is aimed at not only enlightening the participants, but also executing the policies and activities of the NISS at State and Local Government level .
The Executive Director, IAR&T, Prof. Veronica Obatolu, who was represented by the Deputy Director, Dr. J O Saka, while declaring the workshop open, said the role of the NISS is complementary to national mandate of IAR&T on soil, as a result the two organizations should work together to promote good agronomic practices that will enhance food production in the Nigeria .
The NISS Zonal Coordinator, PROF James Adediran was also on hand to present activities of the South-west Zonal Office of NISS.
Some of the activities taking place at the workshop include; technical sessions which will discuss issues such as ,Promoting Sustainable Management and Productivity of Soil Resources, Integrated Soil Fertility Management/ Soil testing, Strategic Soil Management Intervention in Southwestern Nigeria: Way forward (Interactive Discussion), World Soil Day theme; "Halt Salinization, Boost Soil Productivity," Advocacy Campaign for WSD and NISS.
Other dignitaries who were present at the workshop include; Prof. Babalola O. A., Prof Aruleba J. O., Prof. Azeez J. O., Prof. Senjobi B. A., Prof. Adejuyigbe I. O.. Others are, Ewetola E. A, N. O. Olla, A. K. Shittu, I O. Fademi, A.I.O Uthman, Olowokere F. A, and Busari M. A.
The Nigeria Institute of Soil Science was established by Act No 126 of 2017, and is an agency under the Federal Ministry of Agriculture and Rural Development.
NISS is charged with the regulation of soil science practices and all matters pertaining to soil quality management in Nigeria, with a mandate to regulate the profession of soil science practices to ensure agricultural productivity and food security, guarantee practices that will improve soil management systems and environmental sustainability and promote sustainable soil management practices for increased profitability to all stakeholders.
NISS currently runs a 5year action plan to promote sustainable soil management of soil resources in Nigeria.
Back to News