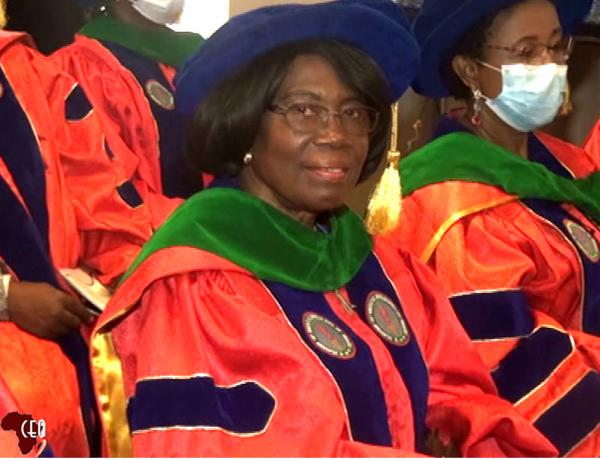 Academy of Medicine Specialties inducts Founder of SCHAF, Adeyinka Falusi, Professor of Haematology, award winner of the L'OREAL UNESCO Outstanding Woman of Science Award in 2001
Photo News: Academy of Medicine Specialties inducts Founder of SCHAF. Prof Adeyinka Falusi as a Foundation Fellow
By: Abara Blessing Oluchi
Sat, 31 Jul 2021 || Nigeria,
Saturday- 31st July, 2021: Professor Mrs Adeyinka Falusi, FAS, Trustee and Co-Chair Sickle Cell Hope Alive Foundation (SCHAF) was on Thursday 29th July 2021 inducted as a Foundation Fellow of the Academy of Medicine Specialties of Nigeria (FAcadMedS) AMSN.
The induction ceremony was held at Radisson Blu Hotel, GRA, Ikeja, Lagos State, Nigeria.
The President of the Academy, Prof. Oladapo Ashiru, while speaking said the Academy was founded to promote excellence in medical research as well as to promote research in the practice of medicine.
He said, "The Academy is a merit-based one, and members shall be a person qualified to practice Medicine or dentistry or non-medical practitioners in other related medical Sciences. The Academy is both an honourific membership organisation and a policy research organisation.
"Our members are elected based on their outstanding professional achievement and commitment to service; serve without compensation in studies and other activities on matter of significance to health. Election to active membership is both an honour and a commitment to serve in Academy affairs.
"Some of the objectives for which the Academy is established are; to advance the Art and Science of Medicine; to promote study and research into medical and related scientific problems; to provide informed advice on medical, health issues and related matters; to publish and circulate or cause to be published and circulated information from research findings for the prevention of diseases or health promotion."
Adeyinka Falusi, Professor of Haematology, Fellow of Academy of Science and the award winner of the L'OREAL UNESCO Outstanding Woman of Science Award in 2001 was inducted alongside 116 others including serving government Ministers, Dr Osagie Ohanire, Minister of Health; Mallam Adamu Adamu, Minister of Education;Dr Ogbonnaya Onu, Minister of Science and Technology, and Dr Olorunnimbe Mamoram, the Minister of State for Health, (inducted as honorary fellow of the academy).
See photos below:
Academy of Medicine Specialties inducts SCHAF Founder, Adeyinka Falusi, Professor of Haematology, award winner of the L'OREAL UNESCO Outstanding Woman of Science Award in 2001
Academy of Medicine Specialties inducts SCHAF Founder, Prof Adeyinka Falusi