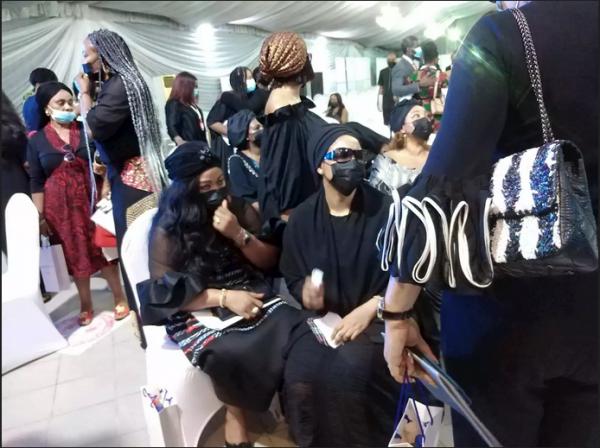 ''Finding out of your demise was the worst news imaginable''- Wife of Super TV boss, Usifo Ataga tenders touching tribute to her husnbad
By: Abara Blessing Oluchi
Fri, 30 Jul 2021 || Nigeria,
Brenda, the widow of the murdered CEO of Super TV, Usifo Ataga, has disclosed that said finding out about his demise of her husband was the worst news ever.
Brenda made this know during the burial of the murdered CEO.
The remains of the murdered CEO of Super TV, Usifo Ataga, was laid to rest on Friday, July 30, 2021. The burial was held at the Ebony Vaults, Ikoyi, Lagos after a funeral service at Our Lady of Perpetual Help Catholic Church, Victoria Island, Lagos.
Also a service of songs was held in his honour at The Incubator in Victoria Island today July 30.
Speaking at the service of songs, the widow of the deceased said she had looked forward to seeing the look he on his face if he had walked into the surprise birthday she had planned for him.
In her words
"Sifo you had a heart of gold, a pure heart, you were kind, patient, humble, fun, loving. You could intrigue a room for hours. Such positive energy.
Finding out of your demise was the worst news imaginable. My mind had raced through all the possibilities of where you were and what could have happened but death, death wasn't an option.
The girls and I were looking forward to seeing you, to celebrate your milestone.
I had imagined how surprised you would be when you walked in to see a place set up for you. I had imagined the infectious smile.
Now, I'm yet to comprehend the start reality that your life was cut short in your prime, at a renaissance of all you had toiled for. .. I'm lost for word.'' she said
His mother, Sylvia Ataga, described her beloved son as one who was generous to a fault, died an undeserved death. She said her son was denied the joy of seeing a project he had spent over seven years working on.
"God knows he did not deserve what those people did to him. My heart bleeds to him anytime I remember. He was generous to a fault.
It took death for me to know how loved he was. He has been robbed of the joy of seeing a project he spent seven years working on.
He has been denied the joy of seeing his children grow up, go to the university, get married and make him a grandfather.
These are wishes of every parent. His love for his children cannot be quantified. No way!"the distraught mum said
Their two daughters, Eboselulu and Emoata, described their late father as an amazing man who always listened to their problems.
Recall that Ataga's body was found in an apartment at Lekki, Lagos, a few days after he was declared missing by his family. Police later arrested his mistress, Chidinma Ojukwu, a student of the University of Lagos, who confessed to stabbing him multiple times which led to his led. She later retracted her statement saying she went out of the apartment where they lodged to get some items and returned to find him in a pool of his own blood.
The Lagos state Commissioner of Police, Hakeem Odumosu, at a press briefing in June said further investigations shows that there were some conspirators in the murder case.
Back to News