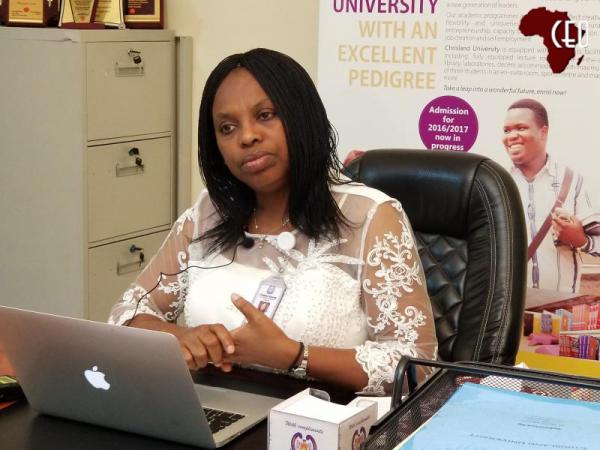 Prof. Chinedum Peace Babalola, Vice Chancellor, Chrisland University Abeokuta, Nigeria
Prof Babalola eulogises women achievers, tasks other Nigerian women to strive to reach pinnacle of their careers
From: 'Tunde Babalola
Thu, 17 Jun 2021 || Nigeria, Umudike
Thursday, 17th June 2021: The Vice Chancellor, Chrisland University Abeokuta, Prof. Chinedum Peace Babalola, has eulogized several women who had achieved greatly in their chosen profession and challenged her fellow women in the academic to strive towards reaching the pinnacle of their career and be at the top in life.
She gave the commendation and posed the challenge during the ongoing 5th Biennial International Conference organized by the Organization for Women in Science for the Developing World, (OWSD), Nigeria Chapter held at MOUA, Umudike, Abia State with the theme: "Making Research Count in National Development: The Role of Women Scientists."
Babalola, a reputable professor in the field of science, and one of the lead speakers at the occasion, came up with a sub topic for her paper with the title: "Science has no Gender".
She outlined the lead paper to several sub heads which included the definition of science, benefits of science, Science has no gender – Women can do it, some women have been recognised to have changed the world as well as Academies need more women. Others included challenges, and prospects and encouragement, dedicated grants and opportunities for women as well as challenges and solution.
She said science refers to the body of reliable knowledge itself, of the type that can be logically and rationally explained. She then identified Medicine, Pharmacy, Engineering, Computer/IT, Geology, and Agriculture and many more as applied science.
The avid Professor of Pharmacy said science is very beneficial as it hinges on life itself stating that "No science No Life Know science, Know Life".
She added that "without science, there will be no life (no you and I), adding that the process of being conceived, born and living hinges on science such as basics of biology, chemistry and physics."
She even gave practical example of what we can easily see around including chair, desk, computers, TV, speakers, telephones, books, clothes, artificial hair, food, air, cosmetics, medicines, herbal remedies, all that you use for living are products of science.
Going to the background, Prof Babalola said prior to the 18th century, women found it difficult to fit into the science sphere but by the 18th century, new opportunities were made available to women.
"In the 1700s, Laura Bassi and Maria Gaetana Agnes, were pioneer women scientists in their fields. Laura Bassi was the first woman in the world to be awarded two professorships in anatomy and experimental philosophy while Maria Gaeta was a professor in Mathematics and she was considered to be the first woman to have attained such a rank in mathematics, in the western world.
"By the 19th century, women such as Rebecca Saunders (British Botanist), Muriel Wheedle (British biochemist) and Marie Curie (French physicist) had made great contributions to science. Women from different fields of science went on to make great discoveries and won prominent awards," she added.
According to the VC of Chrisland University Abeokuta, "It is an undeniable fact that much has been accomplished by women in this largely male dominated space. The journey so far has not been a smooth one; especially when we have to deal with changing the narratives of stereotypes and prejudices even in the space of research. Although struggles for women may differ across the diverse aspects of Science, Technology, Education and Mathematics, however, we have a common goal."
She identified some prominent Nigerian women who are role models and have won several awards and laurels in science for the present day women in Nigeria to look up to.
They included: Prof. Adeyinka Falusi who won L'Oréal-UNESCO Award for Women in Science in 201 Françoise Barré Sinoussi, the Nobel prize in Physiology or Medicine -for their discovery of human immunodeficiency virus 2008, Francesca Nneka Okeke, who also won L'Oréal-UNESCO For Women in Science Awards Laureate - Genetics of sickle cell disease in 2013 and Tu Youyou, The Nobel Prize in Physiology or Medicine - for her discoveries concerning a novel therapy against Malaria in 2015.
She said Nigerian laureates included a biochemist, formerly at University of Ibadan, Nigeria, the second woman to be inducted into the Nigerian Academy of Science, Grace Oladunni Taylor, 1998 laureate in Biochemistry; Co-founder of Sickle Cell Association of Nigeria, (SCAN), National Productivity Order of Merit Fellowship and Nigerian Professor of hematology, Adeyinka Gladys Falusi, the 2001 Laureate in Molecular genetics and in 2013 Francisca Nneka Okeke, a Nigerian physicist., Professor of Physics at the University of Nigeria, Nsukka and first female head of a department in the University won the Laureate in Physics and Climate change.
She also itemized Nigerian women with Fellowship awards and they included 2001 Fellow, Rebecca Salu Livingstone – Zoology, 2003 Fellow, Sodangi Abdulkarim Luka Gesinde – Parasitology, 2003 Fellow, Maryam Aminu – Virology, 2005 Fellow, Aisha Abubakar Abdulwahab – Prevalence of tuberculosis and 2013 Fellow, Eucharia Oluchi Nwaichi - Environment and Toxicology.
Prof. Babalola also devoted a segment of the lead paper to the upcoming young trailblazers in the current generation.
She identified five female Junior Secondary students from the Regina Pacies School, Onitsha that represented Nigeria and Africa at the World Technovation Challenge which held in the Silicon Valley in San Francisco, US and they won the Gold Medal in the contest in August 11, 2018.
Also, the five Anambra Girls for Africa team led by Uchenna Onwuamaegbu Ugwu, they defeated representatives of other technological giants including the USA, Spain, Turkey, Uzbekistan and China to clinch the gold medal. "These young ladies are in Junior Secondary School, and they developed a mobile application called 'FD Detector' to tackle the problems of fake pharmaceutical products in Nigeria. They are: Promise Nnalue, Jessica Osita, Nwabuaku Ossai, Adaeze Onuigbo and Vivian Okoye," she explained.
The Mathematics Guru is also a girl, Faith Odunsi, is a 15-year-old SS3 student. Faith Odunsi set a record in the Cowbellpedia Mathematics Competition by answering 19 questions in 60 seconds. In 2021 she won the Global Open Mathematics Tournament, against participants from across the world, Faith won the competition with 40 points while the first runner up had 10 points.
She also noticed Moyinoluwa Adeyemi who developed android watch that tells time in Yoruba. She is a computer science graduate from Obafemi Awolowo University, (OAU). Moyin has developed an Android watch that tells time in the Yoruba language. The Nigerian software developer achieved the milestone by building a special android watch that tells time in the Yoruba Language.
The erudite Professor then encouraged her fellow women not to give room to any obstacle whatsoever which can hinder their career in the cause of reaching the apex.
Chrisland University's VC however admonished women not to allow inferiority complex in their lives, rather stand tall and keep their head high until they reach the peak of their career.
She advised women to be an engine room of science, as science has no gender bias. She inspired them by bringing out some notable African women who have made history in the science field even while getting married and having children.
Prof. Babalola added that women's reasoning and visions should not be limited on money, rather they should be involved in innovation and creativity, so as to make name for themselves, as many of their mates are doing great in every part of the world, stressing that many have held and are still holding meaningful positions.
She said there is a female president and many more of them in politics adding that, in most institution and in several academic fields of study, "today in many universities and higher institutions of learning, most of the best students are women not only in science field alone but other field of study," she explained.
She then appealed to her fellow women not to look down on themselves, but rather keep their head high and focus.
Back to News