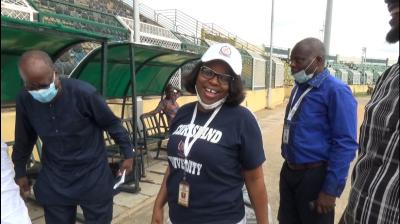 Chrisland university hosts other universities on inter university sport.
By:
Sat, 29 May 2021 || Nigeria,
Chrisland University, Abeokuta on Thursday hosted an inter-university football match and competition between three different universities athlete team.
The exercise which was held at the M.K.O Abiola stadium Abeokuta Ogun State had in participation four different private in Nigeria.
The university that participated were Chrisland Universities are Chrisland universities, Crescent University, Bells University and Mcpherson University.
In an interview with CEOAFRICA, Prof. Chinedum Babalola disclosed that the completion was organized to exercise and to build the talents of Chrisland University students.
She also stated that the purpose of the exercise was to bring out the best world footballers and runners from Chrisland University.
Babalola said "we organize this to exercise and to build the talents of our students. We want to bring out the best world footballers and runners from Chrisland University. We want to give them that opportunity because if we don't do that, we will not get them out.
The University believes in extracurricular activities, we believe in building up the total man; academically, morally, physically and all the while. Sports is one of the ways of building physically and also one of the ways of having exercise, it is also one of the ways of having fun. We have been attending other Universities' intervarsity programs, and this is the first time the University will organize its own intervarsity sports competition and I feel that we are up to age to do that. And we mobilize other universities, we have trained our own people as well so they can have recreation.
The university, including the founders has placed so many premiums on sport. At the Chrisland primary, secondary and University, sport plays a key role. At the last council meeting, it was decided that we should have standard sport center in the Owode Campus, where we have large portion of land, we plan to establish a sport center there and it is not too far from Abeokuta.
We will be taking the students there occasionally for them to practice. Also, within the space where we are we are looking for a way to maximize the resources available.
We are working on reconstructing the lawn tennis and basketball court on the temporary site, we also plan to set up the badminton court, table tennis and chess in the female hostel" she added.
On their part, some of the student that spoke with CEOAFRICA applauded the VC, Prof Babalola and the school management for organising such a great sport event like this.
See photos below:
Back to News