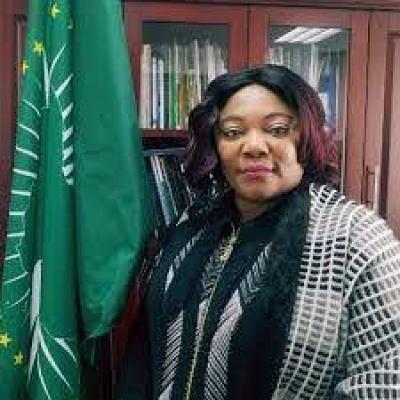 AUC holds webinar on traditional medicine
By:
Fri, 28 May 2021 || Nigeria,
Friday, 28 May 2021: The African Union Commission, (AUC), has held a webinar on traditional medicine and medicinal plants in the 21st century, in order to unequivocally promote the systematic uptake and integration of Africa's abundant traditional knowledge and medicinal plants in its traditional and public health systems.
The webinar, which took place on 27th May was hosted by The AUC commissioner, Department of Education, Science, Technology and innovation, H.E Prof. Sarah Anyang Agbor and moderated by Dr. Mahama.
The advent of Corona virus has heightened the need to bring into the public health system, traditional medicines and medicinal plants debates and engagement of experts, policy makers, socio-economic actors, and the private sector.
During the webinar monitored by CEOAFRICA, Prof. Agbor stated that there is need for scientists to expand on Traditional African medicine with a people centered approach.
"From post-Covid, pre-Covid, we have learnt that we need to expand on Traditional African Medicine with a people centered approach.
"There is need to have a specialized University on Africa traditional medicine. We should not be a cemetery of webinar, after this webinar we should take action."
The moderator, Dr. Mahama stated that, "The knowledge to mix materials coming from plants and incantations can help to cure ailments.
"The objective of this webinar is to encourage African traditional medicine in Africa. The webinar will be interactive. It is a privilege for me to be a moderator," he said.
According to the keynote speaker, Minister of Scientific research and innovation Cameroon, Prof. Madeleine Tchieinte, "traditional medicine should also be considered in getting a cure to Covid-19, adding that the AUC should create agenda for production of traditional medicine.
"Herbal African Drugs has been used to fight a lot of seasonal pandemics e.g. flu. A technique should be provided for mass production of traditional medicine. We need a strong funding mechanism. Traditional medicine can be put in service of our health care system," she noted.
Dr. Shamila, one of the panelists, who spoke on behalf of UNESCO, said it is important to encourage a dialogue with UNESCO on biodiversity and how Africa can become a player and benefit from it.
"Traditional medicine is a common heritage. Several companies during corona used African traditional medicine to produce potential vaccines. This is critical for provision of public health. Covid opened our eyes to the weaknesses in our health care system.
"The use of herbal medicine is expanding in Africa. We have herbal medicines and there is a school of herbal medicine in China, we need to replicate this in Africa, we need to rejuvenate research on traditional medicine."
Dr. Shamila also highlighted the challenges of healthcare system in Africa and possible solutions.
His Excellency, Dr. Elioda Tumwesigye, during his session said that Covid-19 pandemic disrupted a lot of things and African countries are still at the back of the list for vaccinating their citizens.
He stated that herbal medicines can be genetically engineered to only exhibit good characteristics because there are some herbs with negative effects.
Tumwesigye further explained the challenges and opportunities of traditional medicine in the health care system.
Dr. John, who is also one of the panelists stated that the webinar is very important because there is need to bring all the tools to the table, because Covid-19 has highlighted why the safety and use of herbal medicine is important.
Assistant Professor of Public Health, Biology Department and Public Health Program, Franklin and Marshall College USA, Dr. Harriet Okatch, in her speech spoke about the marketing, authorization and growing of medicinal plants.
Director of Research, Head Centre for research on Medicinal plants and Traditional Medicine, Prof. Gabriel A. Agbor, explained the challenges of standardization of drugs and quality control, safety, efficacy concerns, adulteration of herbal preparation and deterioration of herbal preparation.
Present at the webinar are representatives of The World Intellectual Property Organization, (WIPO), and The African Regional Intellectual Property Organization, (ARIPO), who spoke on the importance of protecting the intellectual property of scientists and its importance to the development of herbal medicine.
Panelists at the webinar were;
Dr. Festus M. Tolo, Chief Research Officer, Center for Traditional Medicine and Drug Research, Kenya Medicinal Research Institute.
Ahmed A Hussein, Professor of organic chemistry in the Department of Chemistry, Cape Peninsula University of Technology South Africa.
Prof. Chinedum Peace Babalola, Professor of Pharmacokinetics/Pharmaceutical Chemistry-University of Ibadan, Nigeria.
Harriet Okatch Assistant Professor of Public Health, Biology Department and Public Health Program-Franklin and Marshall College, USA.
Prof. Gabriel A Agbor, Director of Research, Head, Center for Research on Medicinal Plants and Traditional Medicine-Institute of Medicinal Research and Medicinal Plants Studies, Cameroon.
Teacher, Rokia Sanogo Head of DER of Pharmaceutical Sciences-USTTB, Head of Traditional Medicine Department-National Institute for Public Health Research, Mali.
Prof. Abdel Nasser B. Singab, Department of Pharmacogenosy, Faculty of Paharmacy, Ain Shams University, Egypt
Back to News