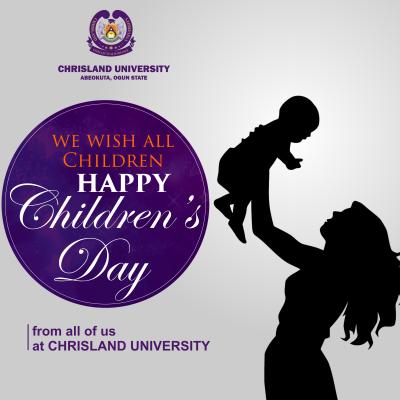 Babalola felicitates with Nigerian children, prays for a bright future for them
By:
Thu, 27 May 2021 || Nigeria,
Thursday, 27 May 2021: The vice chancellor of Chrisland University, Abeokuta, Prof. (Mrs) Chinedum Peace Babalola, on Thursday felicitated with Nigerian children on the occasion of the Children''s day.
She hailed them for their resilient in studying and concentrating on making their future great in spite of the social maladies in the Nigerian society.
Prof Babalola gave the commendation while speaking with CEOAFRICA on the occasion of the commemoration of the 2021 Children's day.
She prayed for a bright future for them despite the prevailing circumstances in the country and then encouraged them to be focussed on their education and strive to be the best.
The vice chancellor of Chrisland University said the important role, the children occupied in a family cannot be over emphasised, reminding the parents that they have a lot to do in bringing their children up in the way of the Lord.
She noted that children not well trained would be the ones to sell all the properties acquired by their parents in future, stressing the need to offer quality education to our children who are the future of the country.
Prof. Babalola said Chrisland University, Abeokuta in Ogun State is a veritable tertiary institution for intellectual radiance and prosperous future for every Nigerian child.
According to her, celebrating the children's day in the wake of the COVID-19 pandemic that led to a global learning disruption of unprecedented scale and severity, calls for parents to look inward and search for institutions where e-learning is promoted for their children, an advantage and the need to choose Chrisland University, which offers best facilities for e-learning.
According to her, "the closure of schools, universities and other learning institutions, as well as the interruption of many literacy and lifelong learning programmes, has affected the lives of 1.6 billion students in over 190 countries," only institutions like Chrisland University can breach the gap.
She now wished every Nigerian child, a happy Children's day holiday and wish that they enjoy the holiday to the fullness while keeping safe.
Back to News