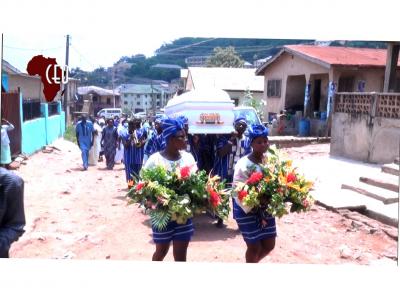 Primate Adeogun passes on to glory, buried amidst pomp, peagentry
By:
Thu, 27 May 2021 || Nigeria,
Thursday, 27 May 2021: Death is an appointment that we can never miss because it is the end of every man on earth. The crucial thing about our existence is to live a life worthy of emulation and commendation that would create a good memory in the hearts of those we meet during our voyage on earth.
This was a reflection of a life well spent of His Eminence, Primate Dr. Gabriel Akanni Adeogun, who left this sinful world on Thursday, May 13, 2021, aged 82.
It was a wonderful moment of reflection as wife, children, grandchildren, family, friends and fellow ministers in the vineyard of God gathered on Tuesday, 25th May 2021 to pay their last respect to a man who came, saw and conquered.
The burial service was held at Agbara Adura Evangelical Church, Oke-Abetu, Abeokuta, Ogun State was the venue of the burial service which was held on 25th May 2021.
Born as a Muslim on 20th of February 1939 to late Baba Mustapha Akanbi Adeogun and Late Mama Olubunmi Adeogun, Primate Akanni Adeogun, became a rallying point for Christian as he accepted Jesus Christ as his Lord and Saviour and alter founded Agbara Adura Evangelical Church, Oke Abetu, Abeokuta, the church he pastured as Spiritual head till March 13th 2021 when he breathe his last breath.
He held several positions in the fold of Christ including Grand Patron, Council of Aladura Primates; Former Chairman, Bible Society of Nigeria, Abeokuta North Local Government; and Leader, Fellowship of Christian Ministers.
Others included Member, Ogun State Government House Chapel Committee; Leader, Organization of African Instituted Churches; Leader, Isokan Aladura Worldwide and Father of Faith, Power Must Change Hand Ministries.
In his exhortation, the preacher stressed that death is the end of every mortal, adding that all human being needs to strive to leave behind a good legacy while we are alive because every deed of man will become a story and we shall be held accountable for all we do while on earth.
Tributes
The National President of the Bible Society of Nigeria, (BSN), Dr. Aaron Nuhu, described late Primate Adeogun as a youthful aged man. He emphasized that the deceased was very youthful in mind who remained a youth till his death. He congratulated the children for having such a man as their father.
He stated that Primate Adeogun was a father who was always there for followers in the faith adding that he was a forthright man who was bold, straight forward and strict. 
He advised the children to make commitment to the Christian faith, a generational legacy in their linage. He also prayed for God to see them through the journey of life.
The wife of the deceased, Mrs. Omolola Adeogun in her tribute described Primate Adeogun as a darling husband, a good and Godly man, who loved all his children.
"You were peaceful, humble, generous and your love for God and mankind were your overriding virtues. Life has its twists and turns, and your death is certainly one of life's shocks to me, you did everything expected of you and much more.
"A center piece icon, you will be missed dearly, you are now resting in the bosom of the Lord God Almighty. Rest in peace my husband."
The daughter, Prof. Aina (Ayanna) Olubukola Adeogun of the University of Ibadan said her father was the one who taught her contentment in all things and how to give with a large heart.
She said "It is difficult to comprehend that my Dad is dead. How do I accept the phrase "The Lord giveth and taketh away" again? First it was my mother, now my father, this is too devastating for me. I feel empty my best friend, Broda Gani, father, brother, gist partner, the one who gave me the uncommon confidence and strength to face life and the world with dignity, with my head held high in all situations?
"How do I forget parents who taught me contentment in all things and giving with a large heart? How do I see a father who taught me bluntness and embracing the price of truth with dignity as just a memory? Life kicks you at your core sometimes and this is one that I can never forget.
"My father, my best friend, my darling, the one who filled all the void in my life. You cannot become a memory, you cannot become a past, you are always in the present and future as long as I live."
She eulogized the father for believing in girl child education in spite of numerous pressures on him not to send her to school when they were passing through doldrums.
"I can never forget your sacrifices, they were a lot; times you had nothing but still gave all; times the world dealt you a blow for protecting younger colleagues and their families by standing by the truth, when you had to choose between providing for us and walking to and fro from work every day, you choose the latter.
She acknowledged the role of the father when she delivered a Faculty of Science lecture in 2018. "I was proud to have you, my father and cheer leader, who believed in me and saw the diamond in the rough, standing up proud and being recognized with misty eyes because you reminisced on how far we had come together.".
 "Death leaves heartache that no one can heal…Love leaves a memory that no one can steal…" Olarewaju Adeogun, a son of the deceased expressed," she added.
Jide Adeogun also described the death of his father as something that is too heavy for him to bear and it breaks his heart that a man so strong who never fell sick when he was growing with him could come done with a brief illness and be gone quickly.
"My father did not die, he only retired, transited into eternal bliss and rest with many crowns. He fought well, defended his own domain, protected and guided many and showed respect and good counsel to all. A man of timber and caliber!"
Dapo Adeogun described the death "As transient as dreams and shadows, as erratic as dew and lightning, such is life…Daddy, I still can't believe you have finally left. If there is something I took my time to learn from you, it is how to be a Father, helping one's children through the process of masculinity.
"Now that you have transited into eternal bliss, you are forever represented and celebrated because you replicated yourself a million times and left a legacy that cannot be forgotten. I will forever remember your words of wisdom."
Adekunle Adeogun said; "I thought you will see the sun again the last time I saw you, you never said good bye, you were gone before I knew it and only God knows why. My Dad was a wonderful father. I wish you were still alive, but God knows the best. Your words and advice, our jokes and gist… I love you but God loves you more."
Adebisi Adeogun who is a daughter-in-law to Primate Adeogun, said;"Daddy though you are my father-in-law, however you are a father figure. As you fondly call me "BISI the B my second daughter" I miss your jokes and laughter, your absence left a deep wound in my heart. It is sad to feel that you are no more with us on earth, but your love and peaceful memories are still our guide. Rest on my Daddy."
Joy Adeogun who is also a daughter-in-law to Primate Adeogun described him as an amazing father and father-in-law adding that it is so sad to know and feel that he is no more on earth.
"We know you are now in a place that is more amazing than the best possible day here on earth. Continue to sleep in the Lord Daddy."
Nike Adeogun, a daughter-in-law to Primate Adeogun said she was shocked when the news of his demise came to her, adding that he was her backbone when she arrived at the Adeogun family.
Adeyinka S. Adeogun, a granddaughter to Primate Adeogun described him as a caring, humble, prayerful and holy man.
"Heaven as gained a special holy man of God. I know you are with the saints in heaven and I pray to God to raise a pillar to occupy your space in Adeogun family."
Alexander Ibukun Adeogun, a Grandson to Primate Adeogun, described him as an incredible person, who is full of wisdom, great sense of humour and he was incredibly caring to his family.
"My grandfather was more than just a man he was a care giver, a mentor, a leader and most importantly a father. He helped cultivate and shape the person my father is today who, I am incredibly proud of and love deeply.
"Some say that greatness is not what you do when you are alive but what you have left behind when you are dead, in that case my grandfather truly achieved greatness. Rest in peace grandpa, you will be missed dearly. Thank you for everything."
Deaconess Dorcas Olayemi Sam-Israel said; "my heart is still saddened by the news of your crossover to the next realm. You are a brother like a dad to me because you saw to my ell-being after I lost my dad. You taught me how to pray for my children and grandchildren in a special way, this has really worked so much for me."
Deaconess (Dr.) Christy Seyi Olorunfemi said; "I never imagined I would be writing this about you very soon. You were a father to me; a father like no other; a disciplinary per excellence; so strict but caring. God rest your soul peacefully in His bosom."
The burial service attracted dignitaries, political bigwigs including the Ondo State governor, Arakunrin Rotimi Akeredolu, SAN; various church leaders within and outside Ogun State and the entire South West geopolitical region of Nigeria.
Back to News