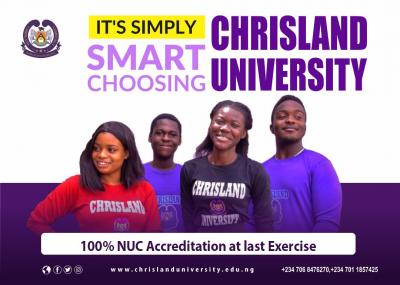 Chrisland Varsity holds maiden Ladies Summit
By:
Wed, 26 May 2021 || Nigeria,
Wednesday, 26 May 2021: Chrisland University Abeokuta, Ogun State, has held her Maiden Ladies Summit, which was organized to create a platform where female students can discover themselves and develop a good self-worth for global relevance.
The Ladies Summit with the theme: "Hephzibah" took place on 21st- 23rd of May at the University Auditorium.
The summit, which featured family life, relationship goals, career talks, values and others, was organized to enlighten students especially ladies on the essence of self-worth, inestimable value and expected goals placed on them as God's masterpiece and societal demands.
In his opening remarks, the University's Chaplain, Rev. Juwon Onasanya charged the female students to carry themselves as the Lord's delight so they can be seen as a voice and formidable force in the society.
The Head of Psychology Department, Dr. Mrs. Modupe Akindeko, spoke extensively on self-worth, stating that it usually comes with self-understanding and self-acceptance, which hold the power to profoundly change one's life positively.
She encouraged the students to ignore negativity from people and the feeling of rejection, adding that with good self-worth, no goal is unachievable.
The preacher at the Summit, Pastor Mrs. Yinka Okuneye, while speaking on the same topic described self-worth as a way of motivating oneself for excellence, she buttressed this point with 1 Samuel 25:3-39.
During an expository session at the summit, she elucidated that a woman could lose her self-worth through loss of focus, procrastination, low self-esteem, and comparison.
Amongst other speakers was the former Head of Service Ogun State, Mrs. Modupe Adekunle, who delivered a talk on career pursuit and woman of economic relevance.

According to her, for a woman to be successful in her career, she must be time conscious, stick to what she believes, keep good companies, and settle for the best.
The Principal School of Nursing, Ogun State, Mrs. Jumoke Alonge, who also spoke on self-worth and value of the female gender, enlightened the students on the similarities between value and self-worth.
She added that it is imperative for the female gender to discover themselves, to avoid rejection from people.
The Vice Chancellor, Prof. Mrs. Chinedum Peace Babalola, while rounding off the programme made reference to Isaiah 62:1-7 and Esther 5:1-5. She stated that Esther was selected as Queen to fulfil God's purpose and she acted in obedience and attracted honor and wisdom.
Prof. Babalola encouraged the students to be the Lord's delight and to use their positions, voices and faith to save the nation as Esther did.
Back to News