Nigeria :: News
Delta central leaders pass vote of confidence on Gov Okowa, commence consultation on governorship slot for 2023 election
Apr 12, 2021
Source: CEOAfrica News: Reported by- Prince Lawrence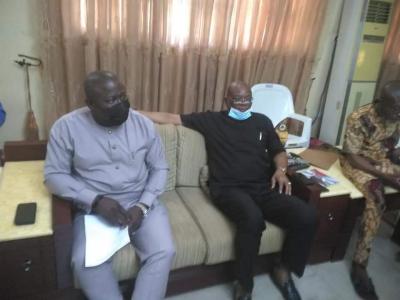 Leaders of Delta Central Senatorial District of Delta State have passed vote of confidence on the state Governor, Ifeanyi Arthur Okowa, for his visionary leadership and good governance strides.
The group has also commenced consultations towards the actualization of Delta Central slot of producing another Peoples Democratic Party (PDP) governor in 2023.
The convener of the group and Chairman of Asaba Capital Territory Development Agency (ACTDA), Chief Ighoyota Amori, disclosed that the governor was able to take proactive step to blend words with action by constituting a political pressure group to drive the process of producing another governor in 2023.
He added that the meeting which was held on Thursday 8th April, 2021, at his Asaba residence was to allow aspirants to start indicating interest for the race with the overall objective of narrowing down the choice to a more suitable candidate that will be projected by Delta Central PDP political structure to fly the party's governorship ticket in 2023.
The eight local governments which constitutes Delta Central Senatorial District were ably represented.
It was decided that DELTA CENTRAL 2023 (DC-23) will be adopted as the name of the political pressure group which will serve as the major group for political consultations and advocacy, to drum up state wide support for the district's common objective of producing governorship candidate in this dispensation.
DC-23 proponents also resolved to no distant date convey another meeting to deepen the planning process by constituting committees and subcommittees to drive the governorship slot project in the three senatorial districts comprising 25 local government areas of the state.
The Convener noted that the need for Delta Central to speak with one voice cannot be overemphasised, adding that the district is not divided and can never be divided over the governorship slot.
He advised would-be aspirants within the district to go about their ambition peacefully without name calling, with the understanding that DC-23 Group shall serve as the unifying organ to achieve Delta Central governorship slot based on the ongoing rotation of power by PDP on senatorial basis.
Amori urged the people of Delta Central to remain united under the group - "Delta Central 2023", while governorship aspirants must of a necessity organise consultations and campaign team in line with the overall objective of DC-23, which is to produce another PDP governor who will succeed the incumbent governor, Senator Dr Ifeanyi Arthur Okowa, on May 29, 2023.
"Today, we are good to go, to commence our sincere drive to actualise Delta Central slot of producing another PDP governor in 2023, based on the power rotation formula of our great party.
"We must embrace our brothers and sisters in Delta North and Delta South Senatorial Districts; partner with them and work together in love and unity, so that at the end of it all, we shall collectively celebrate the victory, and constitute an all inclusive government for the overall development of the state.
"Our leader and governor, Senator Dr Ifeanyi Arthur Okowa, has made our collective victory easier through his good governance strides and still counting. We shall continue to support him to attain his desire of building a Stronger Delta State, which his successor must build upon from May 29, 2023.
"We shall in subsequent meetings inaugurate committees and subcommittees to commence state wide consultations and strategic advocacy devoid of name calling and ethnic colouration, because power rotation in PDP is solely based on Senatorial district, not tribe or ethnic nationality slot as some folks are insinuating erroneously," he stated.
In his remarks, Prof Sam Oyovbaire, erudite professor of political science, thanked Chief Amori for convening the meeting, and stressed the need for Delta Central to be united more than anything else, for the actualisation of the 2023 governorship slot.
He added that the zoning formula of PDP in Delta is based on senatorial district to senatorial district, not tribe or ethnic nationality.
He further noted that the choice of local government, tribe or ethnic nationality is solely within the district saddled with the responsibility of producing the party';;;;;s governorship candidate for election, urging party leaders in other districts to explain the true position of zoning to their people, followers and supporters for the attainment of the party overall objectives.
Oyovbaire recalled that the state party Chairman, Barrister Kingsley Esiso, at a party function in Ovu, Ethiope East LGA, made it very clear that Delta Central will produce the governor in 2023, which is why leaders and stakeholders in the district must join hands with the party structure to drive the process to fruition.
The Speaker of Delta State House of Assembly, Rt Hon Sheriff Oborevwori also expressed that the unity of the people of Delta central should never be compromised, pointing out that whatever the political aspiration of individuals may be, the end result must correspond with DC-23 objective of producing the next governor, and in line with PDP's Delta Central slot for transition of power.
Former Director General of the state Direct Labour Agency, DLA, Chief Terry Noah, stressed that the meeting was timely and urged leaders in the district to team up and reach out to other leaders in Delta North and South to support DC-23 objectives.
He cautioned leaders and stakeholders against politics of "tribe" or "ethnic nationality" and politics of bitterness and name calling, advising that such must never be allowed within PDP family.
Noah further suggested that Chief Amori should continue to host the group in Asaba, until after the various committees and subcommittees are being inaugurated and ready to hit the ground running, before moving meetings to Delta Central.
Present at the meeting are; the Convener, Chief Ighoyota Amori, former Minister of Information, Prof Sam Oyovbaire, former Minister of State for Education, Kenneth Gbagi represented, the Speaker of Delta State House of Assembly, Rt Hon Sheriff Oborevwori, JP, Sen Emmanuel Aguariavwodo, former Secretary to Delta State Government, Rt Hon Festus Ovie Agas, Chief Terry Noah, former member representing Ethiope Federal Constituency, Barrister Lovett Idisi, Hon Evelyn Oboro represented, Hon Igbrakpata, Hon Samuel Marierie, Hon Efe Ofobruku, Hon Mathew Tsekiri, Hon Prince Eric Oharisi, Chief of Staff to Delta State Government, Olorogun David Edevbie, Attorney General and Commissioner for Justice, Peter Mrakpor, SAN, former Commissioner for Lands, Olorogun Fred Majemite, former Commissioner for Economic Planning, Chief George Orogun, Honourable Commissioner for Urban Renewal, Barrister Arthur Akpowowo, Commissioner for Special Duties, Chief Henry Sakpra and Honourable Commissioner for Environment, Chief Chris Onogba.
Others are: Elegbete Moses Odibo represrnted, Chief Emmanuel Ighomena, former Chairman of Ethiope East LGA, Chief Mrs Faith Majemite, former Chairman of Ethiope West LGA, Chief Solomon Golley, Hon Taleb Tebite, Bright Onajefe-Gift Edejeghro, Hon Dr Isaac Akpoveta, Chief Godwin Sito, Mrs Philomena Ededey, Mrs Iroro Oyearone-, Mrs Eunice Okoh, Chief P. O. C Ovbije, Barr. A. K Osawota, Hon Anthony Akpomiemie, Dr Lucky Avweromre, Mr Paul Etaga, Prof Patrick Muoboghare, Dr Amos Ighorodje, Chief Hope Erute, Barrister Fred Latimore Oghenesivbe, Hon Raymond Edijala, Barr Andrew Orugbo, Mr Austin Ayemidejor, Mr Festus Pemu, Chief Favour Ededey, Mr Efe Itie, Chief Barr. Isaac Itebu, Dr Amos Ighorodje, Engr Christabel Obiuwevbi, Barr. Ejaife Omizu Odebala, Hon. Barr. Anthony Akpomiemie, Mr Happy Edijana.
See photos of the meeting:
Headlines (Nigeria):
Read our other news items below...