Nigeria :: News
PHOTO NEWS: Chrisland University VC, Prof. Babalola, others bid final farewell to Gbenga Ariba
Apr 09, 2021
Source: CEOAfrica News: Reported by- Prince Lawrence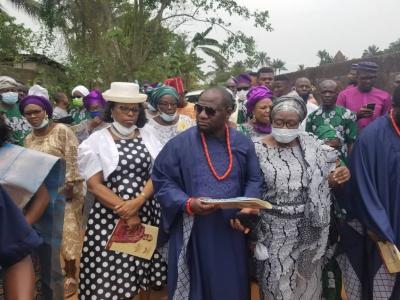 The Vice Chancellor Prof. Chinedum Peace Babalola, members of staff of Chrisland University, families and friends have bid late Gbenga Emmanuel Ariba final farewell.
Gbenga Ariba, who was a lecturer and a pioneer staff of the Department of Mass Communication, Chrisland University, died on the 10th of March 2020 at the age of 67.
He was laid to rest today, Friday, 9th April, 2021 at the Emmanuel Anglican Church cemetery, Isonyin-Ijebu, amidst wails and tears from members of the family, friends and well wishers.
During his sermon at the Emmanuel Anglican Church, Isonyi-Ijebu, Ven. Femi Osikomaya described Gbenga Ariba as a deligent man who had made indelible impacts in broadcasting and advertising.
He urged the congregation at the funeral service to put God first in every thing they do and ensure they live an impactful live.
Prof. Babalola had described the sudden demise of the ace broadcaster as "rude shock and painful loss."
She noted that Ariba was a gentleman par excellence who worked assiduously and served in various capacities in Chrisland University.
The VC prayed that God will comfort the wife, children and other family members of the deceased.
"May God never forsake the family," she prayed.
Gbenga Ariba was a veteran broadcaster, advertising practitioner and a scriptwriter.
During his lifetime, he wrote over 20 plays and over 10 satirical and pungent drama series for both television and radio programmes.
He acquired a Bachelor of Arts degree in Theatre Arts at the University of Ibadan in 1977, a PGD in Mass Communication in 1997 at University of Lagos, Akoka-Lagos, and a Master of Arts degree in Theatre Arts in 1982 at the University of Ibadan, Oyo State.
As at the time of his departure, he was rounding off his PhD. Thesis at the University of Ibadan.
The ace broadcaster joined Radio Nigeria, Lagos in 1978 where he served as a producer, senior producer and principal producer for series of programmes.
He rose to the position of station manager before he left for advertising.
He worked with Lintas Advertising Firm from 1990 to 1995 as a Senior Manager.
Headlines (Nigeria):
Read our other news items below...