Nigeria   ::   News
Released Kaduna student recounts experience, says 'Bandits freed us to send message to Gov. El-Rufai
Apr 08, 2021
Source: CEOAfrica News: Reported by- Prince Lawrence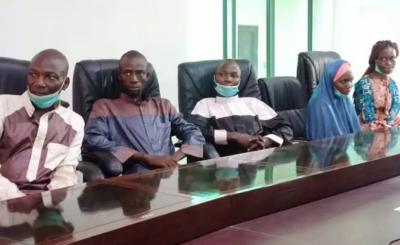 One of the released abducted students of Federal College of Forestry Mechanization, Afaka, Mando, Kaduna State, has recounted how they were freed from captivity and the message the bandits send to Kano state Governor Nasir El-Rufai.
Francis Paul, a 200 Level Student of Agriculture Technology at the institution, disclosed that the bandits released them voluntarily.
This is contrary to the Army's claim that its troops "recovered five of the students", who had been in Bandits' den for three weeks.
Kano State Commissioner for Internal Security and Home Affairs, Samuel Aruwan, also announced that "The Nigerian military has informed the Kaduna State Government that five of the many kidnapped students of the Federal College of Forestry Mechanization, Afaka, Kaduna were recovered this afternoon and are presently in a military facility where they are undergoing a thorough medical check-up."
Francis Paul however narrated that "One afternoon, they (the bandits) came and started selecting us. I was very ill that day. So, they asked me to sit aside and they added some girls and put us on motorbikes. They dropped us at a village close to the main road and said we should walk towards the road and we did."
He further stated that "The feeding was very poor. It was just God that was kept us till the day we were released. They gave us dirty water to drink and also fed us twice a day with spaghetti and fruits.
"The food was not enough because we are many and they will drop it in one plate before you put your hand it has finished. We were all forced to sleep on the floor."
He said the video released showing the students being beaten by the bandits was true "because the bandits said we should be beaten so that we can talk about the money they wanted from the government".
"They said if the government sees us being beaten they will be serious in sending the money."
Paul also revealed that the bandits gave them a message to Governor Nasir El-Rufai.
"They asked us to tell the governor that they should pay them money if they want the remaining students to be released or they will hurt the students. This is the message they asked us to tell the Governor," he said.
  Headlines (Nigeria):
Read our other news items below...