Nigeria :: News
EASTER: SCHAF felicitates with Nigerians brings message of hope
Apr 04, 2021
By: Cletus Ilobanafor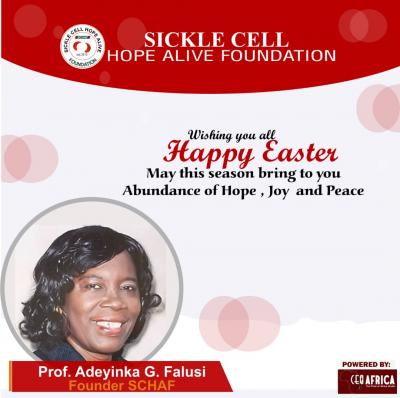 As Christians all over the world celebrate the Easter season, marking the remembrance of the death and resurrection of Jesus Christ, the Sickle Cell Hope Alive Foundation (SCHAF) felicitates with Christian faithful across the world on the Easter celebration. This was contained in a release signed by Professor Adeyinka Falusi FAS, NPOM, TRUSTEE & Co-CHAIR and Professor Oluwatoyin Nwafor MD President which was made available to CEOAFRICA.
Below is the full statement:
Happy Easter Season of Joy and Peace to all men & women!!! We at the Sickle Cell Hope Alive Foundation ( SCHAF) are using this medium to rejoice at this season. The Year 2020 was challenging with COVID-19 but thanks to God we are alive hale and hearty.
We are taking a good look together to broaden and advocate for our SCD Community. Reach out to your family and friends that SCHAF is connecting, partnering, expanding standard of care for the prevention of SCD through Awareness and Genotype (Phenotype) screening with a relatively cheap but accurate method of Point of Care Testing (POCT). It is new in Nigeria and WHO approved for any age from 1 year upwards to any age.
For our young adults we are looking to awarding scholarships to 2 members (male and female) off to tertiary Institutions in Nigeria through a competitive assessment scheme.
For our kids, school supplies will be made available on a first come first served basis as supply is limited.
Our SCHAF Monthly Welfare meetings of comradeship, education and support will henceforth be a mix of virtual and physical - on site to educate, improve effective communication and support through our clinicians and allied health professionals from diverse disciplines.
Empowerment Start-Up grants will be made available on a first come, first registered basis as grants are rather limited to those already trained. You cannot afford to miss out on these goodies as they are earmarked to encourage economic independence, increase visibility, and reduce stigmatization.
Members, we are in business again to celebrate life as God's protection remains sure on every one of us!!! A dupe o ! Together we can defeat Sickle Cell Disease. Join us now. HAPPY EASTER !!!
Headlines (Nigeria):
Read our other news items below...