Nigeria   ::   News
PHOTOS NEWS: WTO welcomes DG Okonjo-Iweala as she assumes office
Mar 01, 2021
Source: CEOAfrica News: Reported by- Prince Lawrence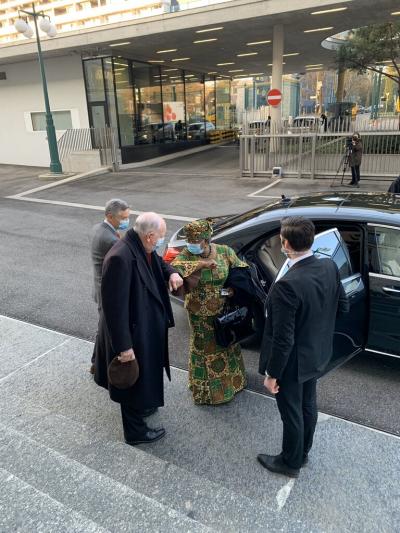 The officials of the World Trade Organisation (WTO) welcomed the new Director General, Ngozi Okonjo-Iweala on her first day in office at the headquarters in Geneva, Switzerland.
Okonjo-Iweala was confirmed DG of the WTO on February 15, 2021.
Today, Monday 1st March marks her first day in office, and she has already been seen in a meeting with the top officials of the trade body.
On its official Twitter handle, the WTO wrote: "Welcome to Dr Ngozi Okonjo-Iweala @NOIweala on her first day as WTO Director-General!
"She makes history as the first woman and first African to take up this post."
See Photos below:
  Headlines (Nigeria):
Read our other news items below...