Nigeria   ::   News
2023 ELECTION: Goodluck Jonathan weighs options between APC, PDP
Feb 25, 2021
Source: AGENCY REPORT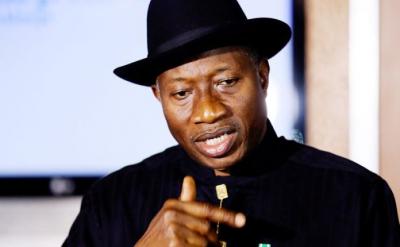 Former President of Nigeria Goodluck Jonathan is currently weighing his options between remaining in his party, the Peoples Democratic Party (PDP), or decamping to the ruling All Progressives Con­gress (APC) ahead of the 2023 presidential election, Daily Independent has gathered.
A very close associate of the former president who disclosed this to Daily Inde­pendent on Wednesday said he (Jonathan) is widely con­sulting and will "make a bold decision very soon on wheth­er or not he will listen to the agitations of Nigerians who are yearning for his return".
He, however, said it won't be a surprise to him if Jona­than defects to the APC given the political ostracisation he has suffered in the hands of his party and the respect be­ing accorded him in APC.
While recalling what hap­pened during the November 2019 governorship election in Bayelsa State, he said many of the president's kinsmen are already in APC, adding that the PDP government in the state led by Governor Duoye Diri is not making any efforts to bring them back to the PDP.
"I don't know if he will join the APC. The ultimate decision is his. But as one of his close political associate, I won't be surprised if he joins. There are two major political parties in Nigeria presently, APC and PDP, and if your in­terest is not met in one, you have constitutional right to move to another.
"No PDP member swears any oath to be a lifetime member of the party. That was why we have seen for­mer national chairmen of the party such as Barnabas Gemade, Audu Ogbeh and Kawu Baraje left to join the APC. So, what is the big deal if a former president switch­es political party?
"Don't forget what hap­pened during the Bayelsa governorship election when the former president's kins­men defected to the APC. Po­litical stalwarts like Chief Robert Enogha, Chief Clau­dius Enegesi, Chief Beimo Spiff and several others. So, the question is what is the mood of the former presi­dent's kinsmen? These are factors to consider."
Speaking further, he said Jonathan's decision to con­test will be primarily based on two factors. The first, ac­cording to him, will be which political party is ready to give him maximum support in getting the ticket and sec­ondly, the party's chances in winning the presidential election
If he will contest, it will be based on which political party will brighten his chanc­es of getting the ticket. I don't think he (Jonathan) has the financial war chest to con­test presidential primary. I am sure that he will not be asking to be the sole aspirant but there even if there are 20 aspirants, there are ways things will be easier for you if they really wanted you.
"The second is which political party has accept­ability among Nigerians and has a higher chance of winning the election. Like I said, I don't know if he will contest, but I believe he will take a definite position in the coming days", he said.
In recent times, there have been overtures by leaders of the APC to lure Jonathan into their fold. Recently, he was visited by some APC governors who allegedly persuaded him to join their fold and get the presidential ticket as it will be zoned to the Southern part of the country.
However, Mai Mala Buni, National Caretaker Chair­man of the APC and Yobe State governor who led APC governors on the visit to Jon­athan's residence, said it was not in his party's plan to field the former president for the 2023 presidency.
  Headlines (Nigeria):
Read our other news items below...