Nigeria   ::   News
#14thHeadies: Bovi wears T-shirt with 'bloodstained' Nigerian flag in remembrance of #Endsars victims
Feb 22, 2021
By: Abara Bleesing Oluchi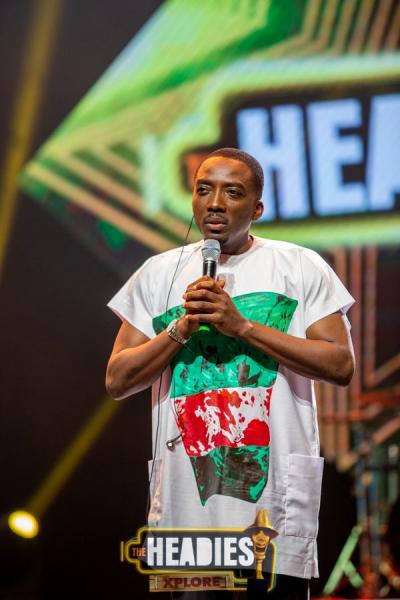 Comedian, Bovi, whose real name is Abovi Ugboma wore a T-shirt with bloodstained Nigerian flag at the Headies awards last night February 21.
Bovi wore it in remembrance of the gunshot incident at the Lekki tollgate during #ENDSARS protest on October 20, 2020.
Here's the main photo that went vial last year during the protest.
Meanwhile, the outfit has generated accolade on social media with some calling for masss production of the T-shirt.
See reactions below:
@ Anonymous about 1 hour ago
"This shirt should be mass-produced"
@Mayor_Anambra
Am using #Bovi';;s picture for my dp for at least 3 days...Rt for Bovi... #14thHeadiesaward #14thHeadies
@ Akanbi Elijah @OgundipeElijah2
This piece got me than all the Awards last night... He Rep
REAL
@i_am_skedo
"This picture worth a lifetime. The best. The message is so strong #BoviMarley"
@iam_jennykoko
"This is the Highlight of tonight';;s award no
May God continue to protect us from blood thirsty demons in human form"
Tosjahthegiggler
@tosjah
"Am short of words but this picture says it all. #Headies2021 #bovi #EndSARS"
Davies
@cruizewrld
"If only every Nigeria youth can use this image as their profile picture until 2023"
  Headlines (Nigeria):
Read our other news items below...