Nigeria   ::   News
Repent now or face wrath of law –Fayemi warns criminals
Feb 08, 2021
Source: CEOAfrica News: Reported by- Prince Lawrence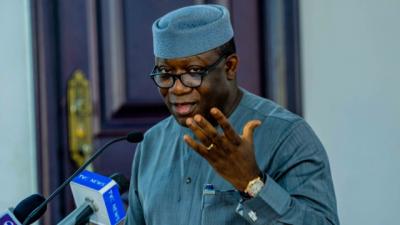 Ekiti State Governor, Dr Kayode Fayemi, has warned the miscreants in the state to repent from their trouble making, violation of law and other criminal activities, lest they face the wrath of law.
Governor Fayemi, through his Special Adviser on Security Matters, Brig. Gen. Ebenezar Ogundana, warned against the repeat of attacks on Police personnel, stations and facilities, which occurred during the last October #ENDSARS protests.
He vowed that unrepentant criminals will not go scot-free.
Fayemi, during the inauguration of Ilupeju Police Station at Ikere, Ekiti, lauded retired Assistant Inspector-General of Police, Tunde Ogunsakin for his 'laudable gesture'.
He said "This man has taken a bold step to ensure that Police return to Ikere Ekiti."
Ogunsakin in his remark revealed that he was worried "Following the attacks on Police stations during the #ENDSARS protest by some hoodlums in the state, the state of security in the community deteriorated to a deplorable situation in which banks, industries and other corporate organisation moved out and ceased operations due to the absence of security and police presence."
  Headlines (Nigeria):
Read our other news items below...