Nigeria   ::   News
Tanker's explosion burns vehicles, offices in Ogun
Jan 19, 2021
Source: CEOAfrica News: Reported by- Prince Lawrence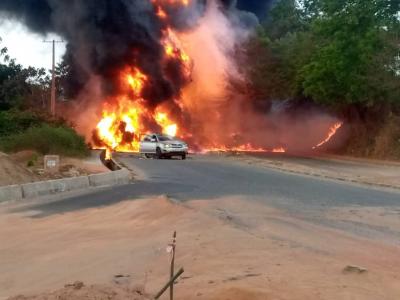 OGUN
About 8:15am on Tuesday, on the Presidential Boulevard Road around Guarantee Trust Bank opposite Lawson Group School, Kuto, Abeokuta, a 33,000-fuel laden tanker exploded and burned unspecified number of vehicles.
It was disclosed that the tanker lost control while descending from a bridge coming from Sagamu-Siun-Oke-Mosan Road.
The tanker hit a motorcycle which was in motion and ran into some commercial vehicles waiting for passengers at the end of the bridge before it exploded.
There has been anxiety as the fire spreads to some offices and school around.
Some officials of the Traffic Compliance and Enforcement Corps were seen at the scene controlling the traffic.
  Headlines (Nigeria):
Read our other news items below...