Nigeria   ::   News
Trump prepares to leave office ahead of Biden's inauguration
Jan 16, 2021
Source: CEOAfrica News: Reported by- Prince Lawrence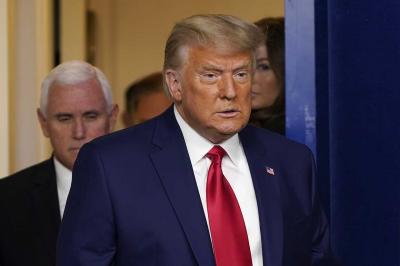 U.S.A
The U.S outgoing President Donald Trump has set to leave the white house ahead the swearing-in of his successor, President-elect Joe Biden.
This was made known to Pressmen on Friday by a senior administration official in Washington.
President Trump, in a tweet, had earlier announced he would not attend his successor's swearing in ceremony. This will mark Trump being the first President not to attend his successor's inauguration since the last President Andrew Johnson refused to attend Ulysses Grant's swearing-in in 1869.
It was also revealed that the outgoing president has not had any form of meeting with the president-elect regarding the swearing in ceremony or other matter of the country.
Vice President Mike Pence, however, has congratulated the Vice President-elect Kamala Harris assured to render his assistance when needed.
Pence will attend the Biden's inauguration in place of Trump.
  Headlines (Nigeria):
Read our other news items below...