Nigeria :: News
NIN: Deadline remains intact, no deadline extension yet –NCC
Jan 14, 2021
Source: CEOAfrica News: Reported by- Prince Lawrence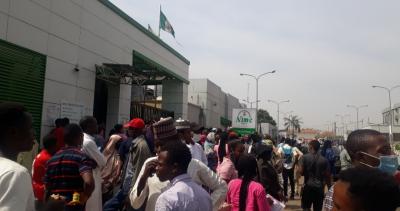 The Nigerian Communications Commission (NCC) on Wednesday has said it is yet to receive any directive from the Federal Government as regards the extension of National Identity Number (NIN) registration deadline.
The Director, Public Affairs of NCC, Ikechukwu Adinde, disclosed that deadlines still remain the same despite the outcry of the public that the NIN registration process should be suspended due to large crowds at the various centres of the National Identity Management Commission (NIMC) and the high risk exposure to coronavirus.
He said, "Right now, apart from the recent information that we made concerning the extension, no further update yet.
"The information on this matter was the one that talked about when we moved the extension to January 19 for those who have NINs and February 9 for those who do not have."
"And then, of course, recently there have been concerns on the effect of COVID-19 and all that. But I am sure government is listening and once we are advised, we will go to the press and announce the new position.
"However, as it is now, we are waiting to see what happens at the end of the day, as the recent deadline extension still stands."
The National Coordinator, Alliance for Affordable Internet, Olusola Teniola, made it known that the massive crowds at NIMC offices showed that it would be tough to register and integrate all SIMs with valid NINs.
He said "It is clear that the dates that we are trying to achieve are not going to be met."
The President, Association of Telecommunications Companies of Nigeria, Ikechukwu Nnamani, also commented that it was obvious that the number of persons without NINs was so large.
Headlines (Nigeria):
Read our other news items below...