Nigeria   ::   News
IAR&T Executive Director, Prof. Obatolu proffer solutions to Agricultural challenges, says it can only be tackled by deliberate partnership, teamwork
Dec 10, 2020
Source: CEOAfrica News: Reported by Iyanda Ahmed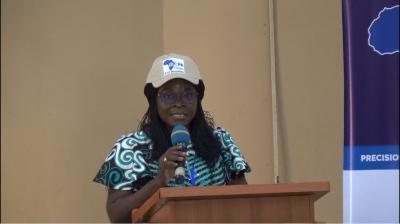 IBADAN
The Executive Director of the Institute of Agricultural Research and Training, Moor Plantation Ibadan, Prof. (Mrs.) Obatolu Veronica has disclosed that agricultural challenges can only be tackled by deliberate partnership and team work at all levels through the paradigm shift, known as Integrated Agricultural Research for Development.
Prof. Obatolu made this known at the 3-day 1st African Conference on Precision Agriculture organized by African Plant Nutrition Institute (APNI) in partnership with the International Society of Precision Agriculture(ISPA) held at IAR&T, Ibadan.
The conference which commenced on Tuesday 8th of December to Thursday 10th of December, 2020 is designed to connect precious agriculture science and practice under the theme "Precision Agriculture in Action for Africa."
In an interview with CEOAFRICA, the IAR&T boss said the mission of the Africa Conference in Precision Agriculture commenced the science and practice needed to put precision into agriculture as a strategy that is viable to ensure productivity, sustainable and production of the environment in action for Africa as a continent.
She said, "The African Precision Agriculture is an approach to farm management that ensures that the land, the seed, and the environment have the exact thing they need to maximize productivity."
She added that the innovation which makes use of IT software would create sustainability which in turn ensures productivity and environmental protection, stressing that the innovation would help boost Africa's economy.
"It is an innovation in agriculture whereby we use IT software in order to monitor the farm and to decide precisely what the farm need so that there will be sustainability to ensue productivity and environmental protection.
"The people sponsoring this are from morocco and they are very advanced in agriculture and they want to meet with African countries that they can improve their economy through agriculture so that they would be able to use this innovation to enhance the economy of the nation individually and collectively," she said.
Prof. Obatolu maintained that over the years, IAR&T have focused on fostering collaboration between Agricultural stakeholder, connecting farmers to robust Agricultural services, knowledge and resources needed for prosperity.
She, however enjoined the participants to ensure that the scientific outcome from the conference will provide the added knowledge, technical knowhow and capability to better understand precision agriculture and to domestic it within the context of Africa continent.
Present at the conference, the President of Soil Science of Nigeria, Prof. Bashir Raji while addressing the participants said the conference means a lot to the Association, adding that "we are going to use less soil resources, less water resources and less fertilizer resources to achieve sustainable growth production."
On his part, Dr. Vincent Aduramigba Modupe, a research scientist on soil fertility at IAR&T, Ibadan, said that instead of practicing trial and error, the knowledge of precise agriculture help farmers to apply precise nutrients, management and practices resulting in productivity, sustainability and improve farmer's livelihood.
Speaking on how to improve agricultural practices in Nigeria, Dr Modupe stressed on the need for enabling government policies, real investment in research and mobilization of farmers through extension services to create awareness.
He said, "There is need for enabling government policies, real investment in research and development, more awareness and mobilization for farmers through extension services for them to be aware of it."
The event which is being hosted in Nigeria had the program simulcast to a network of satellite sites throughout Africa, including Cote d'Ivoire, Togo, Burkina Faso, Kenya, Morocco, Tunisia, Egypt, Ghana, Senegal, Ethiopia, Tanzania, Zambia and Zimbabwe.
  Headlines (Nigeria):
Read our other news items below...