Nigeria :: News
#EndSARS: Catholic Bishop backs protesters, calls for rehabilitation of SARS, police officers
Oct 17, 2020
Source: CEOAFRICA NEWS: Reported By—Onuh Joy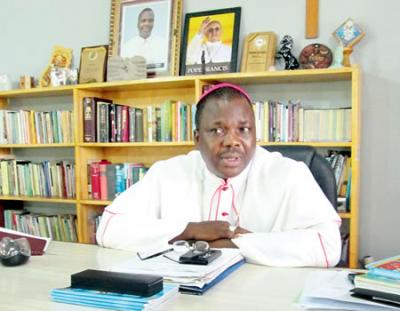 The Catholic Bishop of Oyo Diocese, His Lordship, Most Rev Emmanuel Badejo, said the scrapping of SARS is at best a scraping of the problem.
He made this known in an interview with a news correspondent, adding that ending SARS is not the solution but can be taken as "first aid" to buy time to sincerely address a larger problem which is finding out what kind of institution birthed SARS and addressing it.
He said "the problem to comprehensively address is; what kind of institution, system of government, or federal structure and even society gave birth to such a monster and try to address it.
"You may scrap SARS but deficient and ailing structure will generate other such frankstein monsters" he added.
Speaking further, he called for the reform of the entire police force and suggested a discernment and rehabilitation for SARS officers who can still be helped, adding that some of these officers have been trained with public funds and have gained experience on their jobs and as such a loss for the public if dismissed.
He affirmed that those who broke the law must be brought to justice.
"I think the program of discernment and rehabilitation would help. We must find out those who can still be helped and rehabilitated…those who have run foul of the law and deserve to be dismissed must be seen to face the music" he said.
Speaking on the continuation of the protest, His Holiness expressed his support adding that everyone and not just the youths must take responsibility in demanding accountability from our politicians, government institution and not just the police.
'"The protest in itself is good, especially as we seemed to have an unresponsive government which now seemed to have been forced awake" he said.
He appealed to the government to deploy all legitimate means to secure dialogue with as much openness as possible, adding that the government should be more responsive to the public complaint on theft of public fund, insurgency, exorbitant cost of governance, lopsidedness in appointments as the general dissatisfaction with many things in Nigeria in the big issue.
He encouraged other groups of civil societies to speak up for what is right, calling on NUT,ASUU and others to support public outcry on matters of public interest rather than wait for only students and the church to organize peaceful protests.
He advised the protesters to reassess their purpose and focus and to note that all protest must end in negotiation and as such accept to give the government some time as he who fights and goes away, lives to fight another day.
Headlines (Nigeria):
Read our other news items below...