Nigeria :: News
ANWBN Holds Its First Annual Women Business Summit For Year 2020
Sep 29, 2020
By: Abara Bleesing Oluchi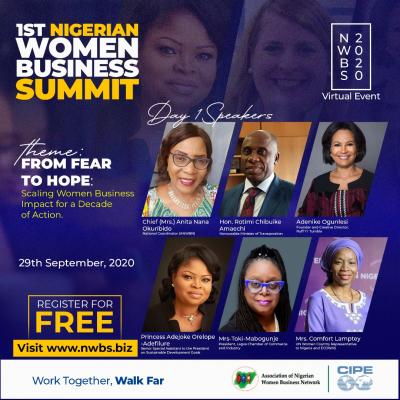 The Association of Nigerian Women Business Network[ANWBN] held its first webinar today Tuesday, the 29th of September 2020, themed: "From Fear to Hope" – scaling women business impact for a decade of action, as notable speakers were in attendance to give talks on certain issues bothering on women and business.
The webinar was moderated by Mrs Bimbo Osuchukwu who introduced some of the speakers which include: ACG Kaycee Ekekezie, Hon Rotimi Amaechi - the Honorable Minister for Transport, Mrs Toki Mabokunje - President Lagos Chamber of Commerce and Industry, and many others.
The moderator Mrs. Bimbo Osuchukwu stated that: ''ANWBN is a coalition of 52 organisations that exists to enhance the economic status of women, so as to ensure peaceful cohabitation, credible job creation and adequate infrastructural provision across Nigeria''.
Osuchukwu enumerated the five (5) priority issues facing the ANWBN which include; high rate of insecurity, inadequate power supply, dilapidated and poor road networks, gender inequality in government at all levels, lack of access to finance, as the key focus areas for discussion.
ACG Kaycee Ekekezie who spoke on: "The Role of the Custom in Border Trades'' expressed her joy in knowing that women now support women in Nigeria.
She explained that went women play considerable roles in trade, adding that women are not lagging behind because women have more feelings than men, therefore they are more diligent than men in trade.
Kaycee further explained how the harassment of women in cross border trade can be curbed.
According to her, there are procedures involved in border trade, and those procedures serve as guidelines for those who are into border trade.
Also, she mentioned that these guidelines can be found on the custom website:www.customs.gov.ng. "If as a border trader you have these guidelines and follow procedures, there would not be any form of harassment and if there are, the traders should report to the officials," she added.
The ACG further reiterates that the role of the custom in border trade is to ensure that the goods being exported are the same goods that were earlier declared.
In her advice, she stated that women should avoid any form of quick cash and short cuts, as they do more harm than good. "If you start small, you will grow big", she added.
Mrs Toki Mabogunje, President Lagos Chamber of Commerce and Industry, who was also one of the speakers at the webinar, spoke on the steps an entrepreneur should take in achieving success. "As a young female entrepreneur, you need to set your goals, and plan towards achieving them. Planning comes with maturity and age. Most young people do not appreciate planning.
Before venturing into a business, you look out for a mentor, someone who has been there and can help you on your journey. Your mentor must not necessarily be a woman, and it is ok to have more than one mentor. Structure your business, keep good financial accounts, and join an association that is related to your business," she stated.
On the same note, Mrs Angela Ajala, who spoke on how the pandemic affected many businesses negatively, encouraged women to be courageous in the face of fear. She stated that it is for this reason entrepreneurs need mentors, because most women operate in silence which is not the right way to handle obstacles in business. She further added that women are naturally hard working, the reason why they need to be in collaboration. "As entrepreneurs we convert challenges to opportunities," she added.
The seminar which was followed by the unveiling of the Women National Business Agenda, WNBA by Hon. Otunba Adeniyi Adebayo the Honorable Minister of the Federal Ministry of Trade, Industry and Investment has the following personalities in attendance; Princess Adejoke Orelope Adefilure -Senior Special Assiostant to the President on Sustainable Development Goals, The Deputy National Co-ordinator Modupe Oyekunle, Dr Lawal Idris Ajibade, and Adenike Ogunlesi - Founder and Creative Director Ruff 'n'Tumble amongst other dignitaries present.
Headlines (Nigeria):
Read our other news items below...