Nigeria :: News
​​​​​​​Stakeholders match in endorsement of Dickson for Bayelsa West Senatorial seat
Sep 26, 2020
Source: CEOAFRICA NEWS: Reported by Blessing Sunday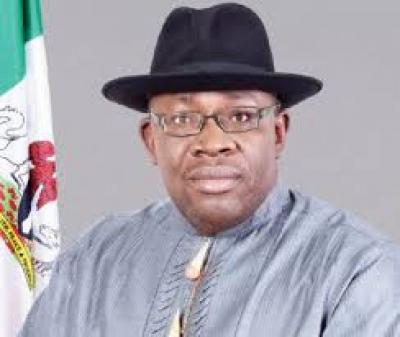 Hon. Seriake Dickson
BAYELSA
Some stakeholders of the All Progressives Congress (APC) in Bayelsa State have embarked on community by community endorsement for former governor Seriake Dickson of the Peoples Democratic Party, for the Bayelsa West Senatorial seat.
The stakeholders of the APC in Ekeremor and Sagbama Local Government Area met at Isampou yesterday and decided that efforts must be made to thwart the political ambition of any politician who may want destroy the existing convivial relationship between Ekeremor and Sagbama, the two local government areas in the Senatorial district.
Stakeholders at the meeting included Hon, Peres Adakuru, Financial Secretary, APC Grassroots mobilization Sagbama/Ekeremor; Stanley Beralade, leader Amanaigbene community; Tabu Pudiya, Coordinator Foutorugbene Community; Kesta Femone Kesta, Coordinator, Aleibiri community and Hitler Moses, Spokesperson APC grassroots mobilization sagbama/ Ekeremor.
The stakeholders and community leaders of Isampou community, Aleibiri community, Amanaigbene, Peretorugbebe, and others undividedly agreed that they would withhold their support from any political party and candidate that would ruin the existing agreement on power sharing between Sagbama and Ekeremor local government areas which make up the Senatorial district.
Leader of the stakeholders and Chairman APC Grassroots mobilisation Sagbama/Ekeremor, Ebide Brown, while addressing APC leaders stressed that the party stakeholders had to boldly decide to undo the bitterness and division among people of the area.
Mr Brown explained that the stakeholders decided to embark on a comprehensive programme of endorsements for Dickson because it was improper and unfair for the two National Assembly positions in the district to go to Ekeremor.
He stressed that any arrangement that promotes an Ekeremor candidacy for the Senate when the position of the House of Representatives is being occupied by an Ekeremor son is both defenseless and objectionable.
Brown insisted that the two positions of Senator and Member House of Reps are shared between Ekeremor and Sagbama and the two had not gone to any single council since the beginning of democratic governance in 1999, adding that the performance of Dickson as governor was also a major reason the people have resolved to back him for the Senatorial job.
His words: "The Sagbama/ Ekeremor people are grateful to the former governor for the construction of the Sagbama/Ekeremor Road, a university, polytechnic, general hospitals and several projects in the Sagbama/Ekeremor Senatorial District."
Brown opined that there is no better and suitable person to go to the Senate than Dickson who he described as having the courage, experience and the network to speak for the district, Bayelsa State and the Ijaw nation.
Headlines (Nigeria):
Read our other news items below...