Nigeria :: News
Ijoba Delta Opens Multi Purpose Filling Station in Ibadan – says Diligence to One's Boss Pays
Sep 26, 2020
By: Abara Bleesing Oluchi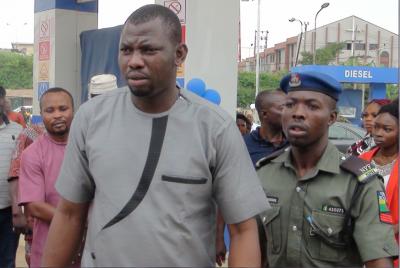 The CEO Top 1 Matrix Global Petroleum, Comrade Ajani Monsuru Yekini popularly known as Ijoba Delta alias Omo Ga has disclosed that that his success today is as a result of his submission and diligence to service in his workplace.
He made this statement while speaking with CEOAFRICA during the recent unveiling of his filling station "TOP 1 Matrix Global" functioning under the Matrix brand.
The Comrade who is the Chairman Petroleum Tanker Drivers under Matrix Energy in Warri Delta State and also the Zonal Petroleum Tanker Drivers Vice Chairman, stated that he started with his boss the CEO/MD of Matrix Energy Abdulkabir Adis Aliu over 18 years ago from nothing and today Matrix Energy is now a conglomerate. He reiterated that he was employed as a driver and has since been promoted as the Chief Driver heading the driver unit of Matrix Energy.
Ajani said that he was determined to soar in the oil and gas business, though he started at a very humble stage. Today, he sits as the CEO/MD of TOP 1 Matrix Global, a downstream oil and gas outfit with retail outlets in Delta and Oyo State.
He emphasized that the new oil and gas retail outlet which is strategically positioned along the high way in Ibadan is one of its kind in Ibadan as it has a bar for regular customers, an underground bar for VIP's, a car wash, a barbing and hair dressing salon, and a restaurant for people to come in and unwind especially travelers plying the route.
He further stated that he believes in giving back to the society which has earned him the name Ijoba Delta. Though he hails from Ibadan Oyo State, he resides in Delta State and Abuja. His ability to carry people along made him highly sought after and admired.
Speaking further, he stated that no condition is permanent. Despite the fact that he is tall in stature the name Omoga connotes that he is aiming high as he dreams to have his own depot in time to come. He added that he runs with his dreams and encourages everyone else to have a dream, and humbly pursue it without working contrary to the dreams and ambitions of their employers.
Comrade Ajani, aka Ijoba Delta did not mince words in appreciating his boss. He added that "My boss is a godly man and I run everything I do with him for his guidance and support, that is why I want my filling station to run under the Matrix brand because all I have today is by GOD and the help of my boss."
Headlines (Nigeria):
Read our other news items below...