Nigeria :: News
Kogi witnesses another fire accident which guts electronic shop worth millions of naira
Sep 26, 2020
Source: CEOAFRICA NEWS: Reported by Blessing Sunday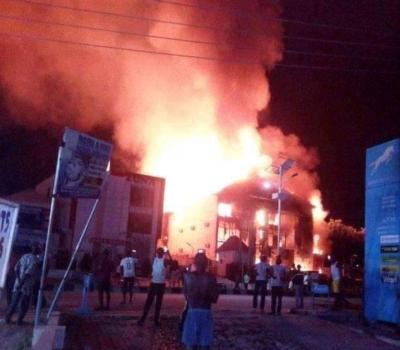 Burnt electronic shop
KOGI
A multi-million naira n electronic shop called Peelinks in Lokoja, the Kogi State capital was burnt down in a Friday midnight fire at about 11:30 pm just barely 48 hours after a petrol tanker accident killed no fewer than 28 people in Lokoja.
It was gathered that the midnight fire began from a power surge and the shop is located close to the firefighter station.
The electronic shop is located along Murtala Mohammed way, close to GT Bank Junction, Lokoja and owned by one business mogul, Peter Onujeme, who had his shop burnt to ashes as there was no firefighter or fire truck to put out the fire even when the office of the Federal Fire Service, was a few meters away from the scene of the incident.
"The whole building was burnt down and goods worth millions were destroyed. What a pity. Somebody's hard earned investment was completely destroyed by fire and nobody or even the constituted authorities could come out to salvage the situation. Now the owner is left with nothing. What is the function of the State and Federal Fire Service in Kogi State?
"What is more worrisome is the absence of the fire services to help out anytime there is a fire occurrence. The recent episode is therefore one too many.
"Whenever their services are needed, it is either they come out with one flimsy excuse or the order. Can you imagine, look at the office of the Federal Fire Service, just a stone's throw to this electronic shop and this shop still burnt down completely without any help from them.
"This situation is an ugly one because we can recall that two days back, a tanker exploded in the same Lokoja, Kogi State, claiming lots of lives and properties and now this one is happening again," an eyewitness lamented.
In a similar development, Traders of the plank section of the boundary market, at the Ajegunle area of Lagos are still counting their losses as fire razed parts of the market.
The Lagos State Emergency Management Agency, LASEMA, has confirmed that some shops were affected by the fire late Friday night at the plank section of the market.
Mr Nosa Okunbor, Head, Public Affairs, LASEMA who said that the cause of the fire is yet to be determined, however mentioned that the fire was combated head-on by firefighters from the LASEMA Response Unit and the Federal Fire Services.
Headlines (Nigeria):
Read our other news items below...